Altrincham Football Club News Archive
1 to 9 October, 2002
---
9 October 2002
UNIBOND GAMES TONIGHT
Accrington Stanley 2 Colwyn Bay 0
Bradford Park Avenue 5 Hyde United 1
Table.


TRAVEL
Provided there is no FA Cup replay with Guiseley, Altrincham travel to Burscough for a league match next Tuesday (15th), k.o. at 7.45pm. The supporters' coach times are here. Alty's FA Cup games are sponsored by 20/20 Research.
SIGNINGS
Apart from Kevin Hulme, signed on Monday, (see below), the UniBond Press Release names three other recent signings by Altrincham, all presumably on non-contract terms. These are Matthew Duffy from Rochdale, Stuart Fenna from Stockport County and Andrew Watson from Bolton Wanderers. Duffy and Fenna have already appeared in Alty shirts but Watson has not, as yet.
ALTRINCHAM 0 VAUXHALL MOTORS 2
Alty are now 20th and have lost four times to Vauxhall in the League in the last 15 League games that they have played!

Match report here.

The Alty line-up is here, statistics are here and the league table is here.

Alan Johnson's photos of the game are here.

Last night also saw the renaming of the Family Stand as the Blue Cannon Enclosure. Blue Cannon are a Hale Barns recruitment company who are now sponsoring the stand, for which the Club extends its thanks. They also sponsored last night's match.
---
8 October 2002
TUESDAY RESULTS
Barrow 3 Runcorn FC Halton 0
Gainsborough Trinity 2 Hucknall Town 2
Lancaster City 0 Burscough 0 - abandoned; floodlight failure.
Stalybridge Celtic 4 Harrogate Town 1
Wakefield & Emley 3 Gateshead 2
Whitby Town 2 Ashton United 1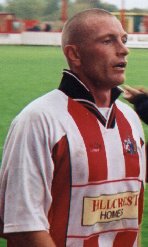 HULME RE-SIGNS FOR ALTY
Kevin Hulme (right) re-signed for Altrincham yesterday afternoon on non contract terms, after leaving Moss Lane at the end of last season. After leaving Alty, a move to Mossley came to nothing, through injury, but Kevin has now opted to join Altrincham in preference to what is believed to have been a bigger offer from Conference side Leigh RMI. His decision to rejoin Alty owes much to his friendship with manager Bernard Taylor and allows Kevin to build on his successful season at Moss Lane last year when he was the Club's leading league goalscorer from open play, with 13 goals. In all he scored 15 times in 50 starts last season for the Robins despite playing many games in midfield and defence. His versatility and firepower will be welcome once more as the Robins seek to climb up the table.
ANOTHER 3-3 WITH STALYBRIDGE!
After Altrincham's first team drew 3-3 at home to Stalybridge Celtic on Saturday, George Heslop took the Altrincham & District FA Youth side to Stalybridge on Sunday and they, too, drew 3-3. The Altrincham FA side is almost entirely made up of Altrincham FC players. More here.
UNIBOND NEWS
After being substituted at Moss Lane on Saturday, Stalybridge's Colin Potts (formerly at Lancaster City) has been transfer-listed. The award for the best defence in the UniBond Premier for September went to Worksop Town, even though Burscough had a better record. This was because Burscough won the award the previous month and no team is allowed to win it twice. Blyth won the prize for scoring the most goals in September. Gateshead have appointed Derek Bell, a former player, as their manager to succeed Gary Gill, who resigned when imposed wage cuts meant that the manager's wage guarantees to his players had been broken. Gainsborough have released Jermaine Richards, who signed for the Club at the beginning of the season but have signed Neil Thompson, an 18 year old midfield player, released by Stoke City. 30 year-old Colin Alcide, in the past briefly at Altrincham, has returned to Cambridge United after his month's loan at Trinity expired. He missed much of the period with a groin strain but Trinity are nevertheless trying to secure his signature on a permanent basis. Hucknall Town have signed striker Sean Farrell on loan for a month from Burton Albion and also left-back Jamie Williams from Rugby United, who are Hucknall's opponents in the FA Trophy.
OLD BOYS
Stuart Scheuber has been playing in Wales for Flexsys Cefn Druids but was subbed in two recent games.
FANS' PARLIAMENT
The new Football Supporters' Federation's "Fans' Parliament" takes place on Sunday (13th October) at the NEC in Birmingham. Topics to be discussed include Who should run football?, Clubs and the national game, Money and football, Television and football, Atmosphere at grounds, Treatment of away fans, Safe standing and Franchise football. Entry is free and open to all; for more on this click here.
---
---
7 October 2002
BLOODS LOSE
Even though Marine visited Droylsden tonight with eight potential first teamers injured (Gary Randles, Jon Gautrey, Jon Wareing, Anton Lally, Steve Rimmer, Alan Bailey, Richie Townsend and John Morgan), they came away with a 1-0 win. The updated table is here.
ALTY AND SUNDAY LEAGUE
The article printed in yesterday's Pink about Altrincham players turning out for a Sunday League match was not accurate and the paper has been asked to print a correction. Indeed, manager Bernard Taylor was as surprised as anyone to read the press story. (See below in the news for 6 October for details). A new message headed "Answers re the Sunday league debate" on the Altrincham Fans' Forum now clarifies the position and also provides an update on the Kevin Hulme situation (see below).
SUPPORTERS' TRUST
If you would like to be added to the list of people being informed about setting up a Supporters' Trust at Altrincham please e-mail here. This link will allow you to join a mailing list for information and updates but it does not commit you to anything. Your e-mail address will not be accessible to anyone else on the list.
KEVIN HULME
An report on the Leigh RMI website, states that "midfielder Kevin Hulme trained with RMI on Thursday night but despite confidence that the 34 year-old veteran of Bury and Halifax Town would put pen to paper on Friday morning, it was revealed that he has been made a better offer by Altrincham, and is likely to go to Moss Lane to feature in the Unibond Premier League". This remains unconfirmed at the Altrincham end and Leigh manager Steve Waywell speaking of Hulme and another possible transfer said, "The deals aren't dead and buried yet". As noted below, Bernard Taylor indicated in his programme notes on Saturday that he was in talks with Hulme, who, of course, played for Altrincham all last season. But, then, in tonight's MEN, Bernard is quoted as fearing that Hulme will accept an offer from Leigh- all very confusing!
AUCTION UPDATE
More than £1,600 has now been raised for the club in bids for the sporting memorabilia gathered together by Alty Director, Grahame Rowley. To see the latest bids and to enter your own, click here.
ALTRINCHAM 3 STALYBRIDGE CELTIC 3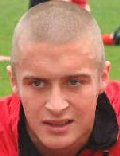 Match report here
Alty are now 19th in the table. Alty line-up here, Statistics here.
Alan Johnson's photos of the Altrincham game and the schools' match are here. Alan's picture of Matthew Duffy, Alty's new defender, is seen, right.
NEXT GAME
Altrincham play Vauxhall Motors on Tuesday at Moss Lane (7.45pm). Vauxhall broke their away "duck" at Barrow recently after two defeats and two draws on their previous travels. The Motormen trounced Alty 4-0 back in August at Rivacre Park. Indeed, they are the second highest scorers in the Division, after Accrington, and currently lie 14th in the table.
YOUNG RECORD
With Andy McDonald starting on the bench on Saturday, Chris Young became the only Alty player to have started all 12 league matches to date. Also on the statistical front, Rod Thornley has now hit 8 goals in 12 league and cup games. For more statistics, click here
---
6 October 2002
GUISELEY
The times and fares for the supporters' coach to Guiseley for next Saturday's FA Cup game are here where route details and a a map are also to be found. Guiseley lost 5-0 at Alfreton yesterday in the FA Trophy. However, in the Pink Bernard Taylor, talking of Guiseley, states "I don't recall us ever winning there and that includes reserve-team games...I'm not expecting an easy ride". Alty lost 4-0 at Guiseley in the Trophy in 1995-96 and in the UniBond lost 2-0 away in 1998-99 and drew 2-2 in 1997-98. However, Alty won both the home league games in those seasons, 1-0 in 1998-99 and 2-0 the previous year. Last season Alty Reserves' game in March at Guiseley was postponed due to potholes in the pitch but when it was played, in May, Alty lost 7-1! Nethermoor is certainly not a happy hunting ground for Altrincham.

This season in the FA Cup Guiseley have so far beaten Manchester side Maine Road and two Northern League sides, Hebburn and Guisborough Town.
ALTY PLAYERS' SUNDAY GAME
The Pink reports that both Peter Band and Andy McDonald, who played for Alty in yesterday's match against Stalybridge, will turn out today for East Levenshulme in the FA Sunday Cup. They play an oddly-named team from Crosby called "Dickie Lewis" which includes players from Runcorn and Marine. Alty boss Bernard Taylor is described in the article as a "pal" of Levenshulme chairman Jason Dunford who hopes to "use his Robins connections to persuade a couple more of the UniBond League club's players to assist Levvy's Sunday Cup cause". Alty fans will be hoping none of them picks up injuries before Tuesday's game with Vauxhall and next weekend's FA Cup match at Guiseley.
CELTIC BOSS SOUNDS OFF
In the Pink Stalybridge boss David Miller sounds off against his team following their FA Cup exit last week. He accuses half a dozen players of just playing for money, saying "the best way to deal with cheating footballers is to treat them like dogs...I'm going to make them run till they drop in training, five nights a week if necessary". Kevin Parr and Dave Ridings are the only two players he names as exempt from his criticism. Elsewhere in the Pink it is stated that managerless Hyde "have been alerted to the fact that Altrincham's secretary and former coach Graham Heathcote might be tempted by the chance to get back into a tracksuit" as Hyde's new boss. Also linked to the job is Paul Futcher the former Southport and Stalybridge manager.
NLP
The Non-League Paper reports on Altrincham's Supporters' Trust meeting last Sunday, saying "Altrincham manager Bernard Taylor has thrown his weight behind supporters". Bernard says, "I'd go along with anything these supporters want. There's a lot of hard work to do but if the Trust does take off then I am sure it will be a big help to the Club". The article continues: "A spokesman for the new group said, 'Supporters have become frustrated at seeing their club lurch from financial crisis to financial crisis. A Supporters' Trust would unite the club and give supporters a real voice'". The NLP itself has been taken over by a consortium led by Woking's Chairman and it now has plans for a Friday edition as well as a bigger, regionalised Sunday issue.
OLD BOYS
In the Nationwide, Kevin Ellison was a used sub for Stockport whilst Danny Adams started, as usual for Macclesfield. Alex Hay scored for Tranmere Rovers but they they then conceded six to lose 6-1. Dale Newbrook kept a clean sheet in the FA Trophy as Trafford beat Leroy Chambers's Belper Town. Also in the Trophy, Andy Lovelock scored again for Solihull Borough. Niell Hardy has turned down a move to Stalybridge from Radcliffe Borough. Ged Kielty scored for Leigh RMI, for whom Stuart Coburn had a fine game- but Leigh still lost. In the UniBond Steve Hawes played for Worksop and last season's Alty Reserves' striker Jason Anthony scored for Hyde United for whom Dave Swanick also played. Adam Farley and Steve Porter turned out for Droylsden.
---
5 October 2002
SATURDAY SCORES
ALTRINCHAM 3 Stalybridge C. 3
Ashton U. 2 Blyth S. 1
Barrow 1 Vauxhall M. 2
Bradford PA 1 Accrington S. 1
Burscough 0 Droylsden 0
Gainsborough T. 2 Lancaster C. 1
Hyde U. 2 Frickley A. 3
Runcorn FC Halton 2 Harrogate T. 1
Wakefield & Emley 2 Colwyn Bay 1
Whitby T. 2 Marine 0

Half-time at Moss Lane today witnessed a keenly fought 5-a-side game on the pitch between young teams from St Ambrose College and Altrincham Preparatory School. Tesco had kindly sponsored the game which is part of an eight-team tournament to be played at Moss Lane home games. The match was later settled in a penalty shoot which St Ambrose won.


PHOENIX LEAVES
After being sent off on his full debut last week against Kendal Town, striker Jamie Phoenix (right), has been released by Altrincham. In today's programme, manager Bernard Taylor writes, "I was disappointed with Jamie Phoenix's attitude whilst here and thus he has now been released". He went on, "However, I have had discussions with Kevin Hulme recently who indicated that he would be interested in returning to Moss Lane. Discussions are ongoing".
VAN NISTELROOY FEATURE
The visit to Moss Lane by Ruud van Nistelrooy on Thursday night to watch Manchester United Reserves playing City Reserves at Altrincham's ground earns a full article in tonight's Evening News. It tells how the Dutchman paid his £2 entry fee and tried to remain incognito but had to be moved to the directors' box when he was swamped by autograph hunting children. See below for more on the match. For United Reserves' forthcoming fixtures at Moss Lane, click here.
UNIBOND NEWS
Runcorn FC Halton chairman Dr David Robertson has denied that his club is the subject of a takeover bid. However, he has revealed that "It takes £150,000 a year to keep us at this level, and we desperately need to raise funds".
KEVIN HULME
Leigh RMI hoped to complete the signing of former Altrincham midfielder Kevin Hulme this week as well as Chester City defender Martyn Lancaster. "I have spoken to Kevin Hulme and he is keen to join us", said RMI manager Steve Waywell. "We just have one or two things to iron out but I'm hopeful he will sign".
---
4 October 2002
FRIDAY RESULT
Hucknall T. 0 Worksop T. 0
Updated table.
ANOTHER UNIBOND BOSS GOES
After the sacking of Hyde's Dave Nolan yesterday, Gateshead report that the club's manager Gary Gill and assistant Steve Agnew have resigned following a request to the players to take a big cut in wages. Chairman Mike Coulson said "Quite clearly, we are in a desperate situation. I won't know if we have got a team until I hear the players' reaction. Gary and Steve have told me they have resigned, albeit reluctantly, because they find their position untenable...We are not in debt, but that does not alter the fact that we must cut our cloth". Former manager Colin Richardson has been brought in but Gateshead have no scheduled game tomorrow.
CHANGED DATE
Alty's away match at Worksop has been switched from Tuesday 29 October to Saturday 2 November, a date when Alty would otherwise be sitting out the FA Trophy 1st Round from which the top ten finishers in the UniBond Premier last season are exempt.
SCHEUBER JOINS DRUIDS
Stuart Scheuber, the former Alty midfielder, has joined Flexsys Cefn Druids in the League of Wales after leaving Colwyn Bay recently.
MORE LEGENDS
Two more profiles by Terry Rowley and Bill Coop, reproduced from the Robins Review, have been added to the Alty Legends section. They feature Malcolm Bailey and Phil Gardiner.
UNIBOND NEWS
Ashton Utd won the Unibond Club of the Month award for September and fellow Tamesiders Hyde Utd won the Fair Play Award. Winger Mark Wilson has re-joined for Wakefield & Emley. Droylsden striker Darren Wright,who has scored four times in the Bloods' last two games, is out injured for Saturday's game against Burscough but manager Dave Pace is hoping to sign Chester striker Chris Cameron. Accrington's talks with Burnley's Kevin Ball have broken down but they have served notice to approach Michael Knowles, Morecambe's midfielder.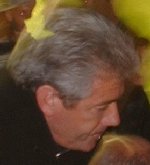 UNITED RESERVES WIN
Manchester United Reserves beat Manchester City Reserves 1-0 last night in the Manchester Senior Cup at Moss Lane, with a goal from Muirhead after 27 minutes. The 1,246 spectators included Ruud van Nistelrooy, Kevin Keegan (seen right) and Stuart Pearce. Teams: UNITED- Carroll, Roche, Rankin, Tate, May (capt.), Fletcher, Chadwick, Stewart, Muirhead, Nardiello, Fortune. Subs: Lynch, Williams, Heath, Pugh, Tierney. CITY- Flowers, Charvet, Shuker, Wiekens, Dunne, Buishoff, Whitley, Loran, Vuoso, Browne, Kerkar. Subs: McCarthy, Murphy, Barton, Whelan, Paisley.
---
3 October 2002
HYDE BOSS SACKED
The Tameside Advertiser reports that Hyde United have sacked player-manager Dave Nolan after the Tigers gained just 7pts from their first 12 games of this season. It is believed that Nolan may stay at the club as a player. "He will always be welcome at Hyde for the loyal service he has given to the club both as player and manager", said the Club secretary.
NEXT GAME
At the start of the season, few would have predicted that Saturday's game at home to Stalybridge Celtic would be between two struggling teams. Celtic have 3 points more than Alty in the League but have played a game more. Celtic have also been put out of the FA Cup by UniBond First Division team Workington. The excellent Celtic website has some of the best statistics on UniBond teams' current form and, amongst many other things, these show that Stalybridge have yet to win away this season. They have had defeats at Barrow, Runcorn and Harrogate and draws at Wakefield, Hucknall and Ashton. Before Alty get complacent we should remember that we have already lost at all of these last three venues!
The Celtic side has been transformed by new manager Dave Miller, who arrived towards the end of last season. Amongst the familar faces now at the Bower Fold are ex-Robins centre-back Terry Bowker and Celtic's reserve keeper Ian Senior, who had a couple of spells at Altrincham. However, Chris Timons, the ex-Alty captain has now left Celtic for Gainsborough.
Alty entertain Stalybridge Celtic on 5th October. Howard Watts, an Alty fan now based in the USA, compiles the results of all Altrincham Games played on particular dates of the calendar year. His Through the Years chart shows that, coincidentally, the first match Altrincham ever played on a 5th October was in 1907, against Celtic's forerunners - Stalybridge Rovers, who beat Alty 4-0!
TRUST
SAM reports on the Supporters' Trust meeting of last Sunday. It quotes Alty director Grahame Rowley as saying of a Trust, "Anything that advances the position of the club is a good thing. More contact with local business and commerce will be great for Alty and it is something that has been lacking". The article goes on, "Grahame, who was present at Sunday's meeting, stressed that the directors had not discussed the issue at board level yet, but planned to do so in the near future".
OLD BOYS
Hyde United's ex-Robins are having a bad time at present. Both Anthony Hargreaves and Lee Evans were out injured against Colwyn Bay on Tuesday whilst Dave Swanick is now starting a suspension after five bookings. Missing from their win over Hyde on Tuesday was Colwyn Bay's Carl Furlong (suspended!) but another ex-Moss Laner, Marc Limbert, did play. In that game Hyde gave a debut to Jason Anthony, the Alty Reserves' striker of last season, who was previously at Winsford. Trafford's winning team on Tuesday over Stocksbridge PS in the UniBond First Division included ex-Alty players Dale Newbrook, Dave Collins and Mario Daniel, who scored again for his new club. On Saturday in the Trafford Reserves side were recent or current Alty Youth or Reserve players Mark Drew, Ian Horton, Pat Claffey, Paul Tilley, Lee Thompson, Richard Smith, Lee Shillito and Ian Taylor.
---
2 October 2002
WEDNESDAY GAME
Accrington S. 4 Burscough 2
ROCHDALE LOANS?
Manchester OnLine quotes 'Dale manager Paul Simpson as saying, (presumably a few days ago) that he was "waiting to hear from Altrincham about taking Matthew Duffy and goalkeeper John Baker" on loan to give them experience. Last night Matthew Duffy (see below) turned out for Alty at Lancaster City but there was no John Baker. Duffy has experience in Rochdale's Reserves.
LANCASTER CITY 3 ALTRINCHAM 0
Match report here
The Alty line-up is here, the updated table here and the updated statistics here.
UNIBOND NEWS
Hyde United report that they have signed last season's Altrincham Reserves' striker, Jason Anthony, who appeared in pre-season games for the Tigers. Anthony was at Winsford beofre joining Alty. Another ex-Robin, Sammy Harris has re-joined Hyde, after leaving at the start of the season to join Mossley. Workington have re-signed Barrow midfielder Tony Hopper for the third time. Hopper has considerable league experience with Carlisle. Bradford PA's site reports that Ross Turner is to return to Worksop after a loan spell. Lutz Pfannenstiel, the German keeper who made his debut for BPA at Moss Lane last season, has now established himself as first-choice after coming back into the side for the last two games.
---
1 October 2002
RESULTS
League results
Colwyn Bay 2 Hyde U. 0
Frickley A. 0 Bradford PA 3
Harrogate T. 1 Gateshead 3
Lancaster C 3 ALTRINCHAM 0
Vauxhall M. 5 Ashton U. 1
Worksop T. 2 Wakefield & Emley 1

FA Cup replays
Hucknall 3 Hednesford 3 aet - Hucknall won 6-5 on pens.
Eccleshill 2 Marine 3 aet
Workington 3 Stalybridge C. 1

HEVICON PROBLEM

On Mossleyweb manager Ally Pickering writes of last Saturday's game "I removed [former Alty player] Ryan Hevicon from the field because his work rate had descended to zero, and I considered that we were better off with ten men working for the team than carrying someone who wasn't taking part. Ryan phoned me on Sunday to apologise for his performance and his actions thereafter and to explain that he is a diabetic, something he had failed to inform us of previously, and say that his blood sugar levels were down and that he had to go to hospital on Saturday night. He accepted that he should have told us when he signed in case anything happened but Ryan didn't want to ever use his condition as an excuse."
WORKSOP GAME OFF
Worksop FC state that their league match at home to Altrincham on 29 October has been postponed, along with two of their games in October. If Alty do not rearrange a game that week, alternative action could be found in the Manchester Premier Cup, the draw for the 1st Round of which has been made, with games to be played by 30 October:
Curzon Ashton v Maine Road
Ashton Utd v Trafford
Stand Ath. v Flixton
Abbey Hey v Mossley
IT'S GUISELEY!

As reported below, Altrincham yesterday drew either Guiseley or Guisborough Town away in the FA Cup 3rd Qualifying Round. In last night's replay, Guiseley won 1-0 so we will be going to Nethermoor on Saturday 12 October. Pictured above is our last visit there on 1 May 1999, with Alty warming up before a 2-0 defeat. The players seen (l. to r.) are Andy Lovelock, Chris Timons, Leroy Chambers, Paul Ellender, Ricky Harris, Gary Talbot, coach Graham Heathcote, Paul Robertson, Danny Adams, Phil Power, Simeon Hodson, Ged Kielty and Mick Carmody.

Guiseley have won only one league game this sesson; but it was 7-0 against Bishop Auckland! For Alan Johnson's pictures of the 1999 Guiseley v Altrincham game, see here.
UNIBOND NEWS
Accrington's website reports that former Alty defender Barry Shuttleworth had hoped to escape suspension for being sent off for an alleged handball against Wakefield & Emley but the referee's report has confirmed the red card. It also states that manager John Coleman is in talks "with a former Premier League midfielder who was playing first team football in Nationwide Division One last season". In today's D. Telegraph Stanley chairman Eric Whalley states "I'm a tight git. I go round turning off lights after people" but his thriftiness earned Stanley a 20% sell-on bonus for Brett Ormerod and the £250,000 that that deal produced has paid for the club's newly extended cantilever stand. Whalley also talks about their celebrity supporter, the newsreader Anna Ford, to whom he has sent a replica shirt. Another Stanley fan flies the Atlantic several times a year to watch Stanley; he "must be bloody bonkers", says Whalley! Another side doing well, Ashton United, report that they have now "only lost 2 of their last 22 competitive games since April 1st [and] also won all 5 pre-season friendlies".
SPORTSMAN'S DINNER
Altrincham FC's Sportsman's Dinner takes place on October 3rd at the Cresta Court Hotel, Altrincham at 7.30pm (for 8pm). Tickets cost £25 or £250 for a table of ten people. The former Nottingham Forest star John McGovern will be the main speaker with support from Al Conway, a magician and comic. Please ring the club on 928-1045 to purchase tickets.
---