---
Oporto and its Coach Services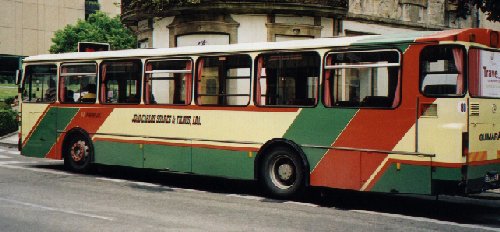 Left: A forerunner of Arriva Portugal, Soares e Filhos operated coaches from the Rua da Restauração, as here in Oporto, July 2001. Right: Bragança's former railway station is now its coach, local bus and metro station (2011).
---
Coach Operators
Unlike the bus and metro systems which are excellent, the coach system, though extensive, is let down by the absence of a central coach station. Instead, various companies have their own depots scattered around the city. One of the major operators, Rodonorte, for example, has its depot in a very unprepossessing side street (Rua do Ateneu Comercial) that you would never encounter by chance. Nevertheless, that and the other companies run efficient and wide-ranging services with modern vehicles which are increasingly useful to visitors as,
the road network sees massive investment in northern Portugal, especially towards Bragança (Braganza), which have cut journey times
the rival network of narrow gauge rail lines, branching off the main Douro standard gauge route, has been emasculated in recent years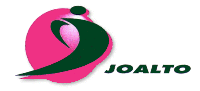 A number of independent operators have disappeared in recent years, including Empresa Marques, who operated from their base at Viseu, to the south-east of Oporto from beside the Renex office on the corner of the Rua da Restauração (city-centre end). Viseu coach station is a large, modern facility where many regional operators can be seen, such as Guedes. Also gone are João Carlos Soares e Filhos of Guimaraes, who were taken over by Arriva.
Espírito Santo: Run local services centred on Vila Nova de Gaia but also serving Oporto. They use the bus station near the Guindais funicular in Oporto.
Renex: Rede Nacional de Expressos run services to many cities in Portugal, including Lisbon and Coimbra.
Rodonorte: Operate a wide range of routes in northern Portugal from a small garage in the Rua do Ateneu Comercial, off Rua Sta Catarina. Getting the coaches in and out of the depot is an art in itself, rivalled by similar constricted entrances at other Portugues bus stations such as that in Amarante. Rodonorte has 131 coaches/buses, the company having grown from the Cabanelas company founded in 1865, providing horse-drawn services. The name Rodonorte came into use in 1992. Vila Real, Bragança, Viseu and Braga are amongst its destinations.
Transdev and Veólia incorporate formerly independent companies such as Guedes, Joalto and Caima, some of which still operate in their original liveries. Transdev operates some 1,500 buses. From Oporto, cities served include Guarda, Guimarães, Lisbon and Viseu.
---
Coach Stations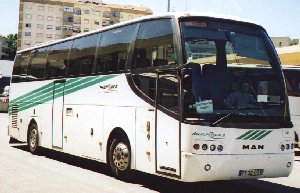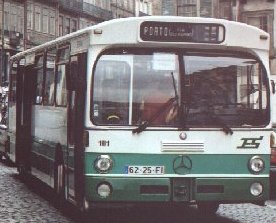 L to R: Viseu-based operator, Marques, runs services to and from Oporto - since this image from 2001, it has changed its livery; Espírito Santo operates short-distance services around Oporto and Gaia.

There are numerous independent coach operators with services into Oporto and they operate a wide range of vehicles. This page just mentions a few of those which may be observed.
Coach Stations/Depots
Many Portuguese bus stations are concealed within what, at a distant glance, appear to be normal buildings. Whilst some of these premises appear unlikely, generally the coaches are of modern design and the services are reliable. In Oporto, there is no single main coach station. Amongst the many starting points for coach services are the following.
Garagem Atlântico, Rua Alexandre Herculano. This is the home of Rede Expressos and lies just off the Praça de Batalha, conveniently close to the Douro bridge. It is therefore much used by routes running south, across the Douro, via Vila Nova de Gaia.
Rua da Restauração. Services park alongside the Renex booking office at the city (upper) end of the Rua da Restauração.
Rua Ateneu Comercial do Porto. Base of Rodonorte, with a decent waiting room next to a small bus garage.
Rua do Clube dos Fenianos. Situated to the left of the front of the Town Hall is a small garage owned by Pacense, adjacent to the Main city tourist office. Pacense operates services to Paços de Ferreira Bus station address (pic): Rua de Alexandre Herculano (Rede-Expressos buses)
Campo dos Mártires da Pátria. For Renex buses which run to Braga, Vila do Conde and many other northern towns, as well as destinations throughout Portugal.
Rua Vimara Peres. Near the top of the D Luís bridge on the Oporto side, is this small bus station, whose users include Espírito Santo.
---
Some Suggested Day-Trips
Braga: Easily and cheaply reached either by coach or train, this northern city is worth a visit both in itself and for its nearby Bom Jesús church, reachable by bus. There is a 19th-century funicular at Bom Jesús to convey you to the church, avoiding the 600+ steps!
Bragança: You can just about do a day-trip here allowing a few hours in the historic city up towards the top NE corner of Portugal. Several operators ply this route including Rede Expressos and Rodonorte. The route takes you through masses of superb scenery and the bus stations at Mirandela (en route) and Bragança itself are both the former CP railway stations, whose buildings survive. The "station" café at Bragança offers good food and drink and friendly service. Worth visiting is the old city, around the castle and Roman Domus, about 10/15 minutes walk from the station.
Chaves: A small city founded in Roman times and with its historic bridge over the River Tamega still intact. Rodonorte run services here. In addition to the historic sites in the centre, not to be missed is the superb Abade Beerhouse on nearby Rua do Sol which has beers from around the world and some excellent refreshments which include a variety of superb Portuguese regional breads.
Guimarães: An attractive city, easily reached from Oporto by many rail and coach services. The ducal palace is well worth a visit but the streets of the old quarter are also attractive in themselves.
Lamego: Best reached by a combination of the regular broad gauge train from S.Bento station to Régua. The latter part of the rail journey is alongside the Douro river (sit on right side). Outside the station at Régua there are buses including one to Lamego operated by local firm, EATV. For just 2.10 euros you are treated to 20 minutes or more up winding, steep road through terraced landscpae and with magnificent views. Lamego itself has the Nossa Senhora dos Remédios up a series of steps at the end of the main street and is an atractive town in itself. NB Buses between Régua and Lamego are irregular outside working hours. Régua is a calling point for Douro cruise ships and has the Museu do Douro. If you visit the latter, be aware that the river-front building only houses temporary exhibits and a shop - the main musueum is out the back door, about three minutes up the road! For more on Régua and its sights, visit the Excursions: Régua page.
---
Copyright: ©


Compiled by John Laidlar