Context
Oporto was a European City of Culture in 2001 but is an attractive destination in any year. Despite the country's economic problems, it still offers a great deal to the visitor with an interest in public transport. Indeed, its transport system makes some of Britain's efforts look decidedly second rate. Oporto's transport is largely intergrated, modern, reasonably priced, frequent and electronically ticketed. In Oporto city centre, you can even stand on certain Metro platforms and be able to see real-time flight departure information from Oporto airport, complete with all of the destinations' temperatures in Fahrenheit and Centigrade whilst awaiting a metro vehicle whose exact arrival time is both pre-published and displayed in real-time on monitors - none of which can be done on British systems such as Manchester's, where even the service times of the Metrolink tram are not available to the public.


Right: STCP Mercedes bus 2142 at the Largo do Viriato/ Rua da Restauração junction, July 2001.
In Portuguese, the city is known as Porto, the English form of its name derives from the use of the Portuguese definite article "o" in front of the city's name in certain circumstances. The superb natural setting of the city, on the River Douro, means that it has some striking fixed-crossings including a double-decker 19th-century bridge (now with Metro on top, buses below and pedestrians on both) and an Eiffel-designed high-level railway bridge of similar late 19th-century vintage (now supplanted by a slender concrete structure). Also, the hilly terrain adds to the city's appeal. Vila Nova da Gaia, opposite Oporto, on the south bank of the Douro, is the home of many port wine companies, most of which offer free guided tours, with samples. Amongst the best organised of these are those at the Taylor (still free in 2011), Cálem (4 euros in 2011), Sandeman (3 euros in 2011) and Ferreira lodges.
Indeed, for the transport enthusiast Oporto has a wide and growing range of attractions. In recent years a new Metro system, funicular, cable-car and cross-river bridges have all been built. Sadly, however, its tram network is a pale shadow of its former glory and its single and double-decker trolleybuses have now disappeared, though modern double-decker buses made a return in 2011 on routes to the north and east of the city.
Horse/mule-drawn trams came into service in Oporto in 1872 and lasted in operation till 1904. Oporto later became the first city in Iberia to introduce electric trams, in 1895, although steam trams had been in use since 1878 and were to remain till 1914. Buses were introduced to Oporto in 1948, with trolley buses following in 1959. Trolley buses, of which Porto had both single- and double-deck versions, only ceased operating in 1997.
After the tramway had declined to a state of virtual non-existence, the city now has three operating tram routes. These include two which pass Massarelos depot; route 1E runs along the river-side from Infante, near the historic Ribeira waterfront and runs to the Passeio Alegre (near Foz), whilst route 18 takes a short uphill route up the Rua da Restauração to a city terminus at Carmo, which was recently reinstated after many years of closure. The third route (no.22) is the newest. It links with the 18 route at Carmo and runs a circular service to Batalha, terminating adjacent to a street lift which serves the Guindais funicular's upper station next to the Ponte D. Luís. Unlike the rest of Oporto's transport, the trams are NOT covered by the Andante ticketing system (see slewhere on this site for details). Each tram journey costs 2.5 euros and the routes are all operated by historic trams.
This page is a companion to the Lisbon Transport page of this website.
Airport
Oporto's Francisco Sá-Carneiro airport is at Pedras Rubras, north of the city. It is named after the Portuguese prime minister, Francisco Sá-Carneiro; you may not wish to know that he died in an air crash! Direct flights from England include Ryanair services from Liverpool and Stansted, whilst easyJet operate from London. The Oporto airport operator is ANA. A new Helitours helicopter service started on 14 June 2002, from Massarelos heliport, offering tourist flights over the city, as well as a service to and from Mesão Frio, to the north, for lunch! Click on the following link for this site's Oporto Airport page.
---
Bridges
Oporto has six major bridges spanning the Douro within a couple of miles of the city centre, the last being completed in 2002. They include Eiffel's railway bridge and a 19th-century double-decker bridge which now carries the Metro on the upper deck. Visit this site's Oporto's Bridges page here for details.
---
Buses and Coaches

The city's bus and tram operator is STCP (Sociedade de Transportes Colectivos do Porto), whose web site is an excellent resource for the visitor. As well as transport details, it also has illustrated tourist information. Oporto is also rich in local and regional coach operators. There are now both an Oporto bus page and a coach page on this site, which will be updated in summer 2011,
---
Cable Car - Teleférico

This takes you from the Gaia end of the upper level of the D. Luís bridge to the quayside at Gaia and back, providing excellent views. A single journey in either direction costs 5 euros, a return is 8 euros (2011 prices). For details, see the Oporto (Gaia) Cable-Car page.
---
Eating and Drinking
Oporto has many excellent budget-priced restaurants and cafés. A small selection of recommended ones is on the Oporto Eating and Drinking page
---
Funicular
The Funicular dos Guindais was re-opened as a modern funicular in February 2004; it replaced a system which had been closed for decades More details are on this site's Oporto Funicular page.
---
Metro
Picture of Metro unit, above, courtesy of Tony Morehead.
A new Metro do Porto light-rail system is now in operation. On 22 May 2001 the first of 72 light-rail cars for the Metro do Porto was unveiled at Massarelos and street-running trials of the new vehicles began in June 2002 A revenue service started on 1 January 2003. The initial vehicles used were seven-sectioned Bombardier (Adtranz) Eurotrams, each with a capacity for 291 people (80 seated). These have been supplemented by Flexity Swift vehicles, which primarily serve the lines to Póvoa do Varzim and ISMAI with a top speed of 100 km/h.
The majority of services run with two LRVs coupled together. The Eurotram consists of four main compartments, two in each carriage linked by short corridors, and also features an articulation between the two carriages. They have a capacity of 80 seated and 134 standing passengers.
A 24 hour ticket for the whole Metro system as well as buses and the funicular (but NOT the trams) costs five euros in 2011; a 72-hour ticket costs eleven euros. You can even go as far as Póvoa de Varzim and back on these 24h and 72h tickets. They can easily be bought at the Andante office at Trindade or other Andante shops. You must validate the ticket at the start fo every trip and whenever you change vehicle.
For more, see this site's Oporto Metro page.
---
Railway Stations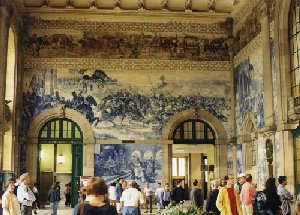 The central railway station is called São Bento and is decorated with superb ceramic tilework scenes (pictured, right) ; however the main inter-city station is some way out of the centre at Campanhã, to which it is linked both by rail and, with a change at Trindade, by Metro, too. Trindade (to the north of the town hall) was the main suburban railway station, but the station was demolished and the old narrow-gauge CP lines which ran from there to Póvoa do Varzim and other destinations, have been replaced by the new Metro. For more on Oporto railways, visit this site's Oporto railway page.
---
Railway Trips
For an account of a journey by rail from Oporto to the historic university city of Coimbra, via Aveiro, click here. Other journeys will follow. Rail fares are still good value. For example you can get to Braga (a journey of over an hour on a stopping train) for fewer than five euros return (2011). A day-trip to Régua is one that is recommended - sit on the right hand side for fine views of the Douro on the outward leg. From there a bus to Lamego is a tremendous experience as it climbs the winding road to the attractive town - a 25 minute journey costing just 2.10 euros each way (2011).
---
River boats
Nowadays, river cruises abound on the Douro at Oporto. One option is a fifty-minute cruise on the Douro, from the quay at Ribeira, taking in all of the city's bridges but longer cruises are possible up the Douro.
---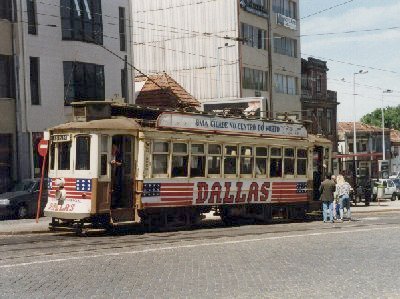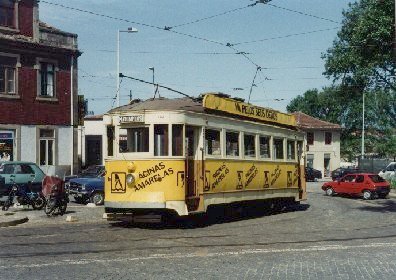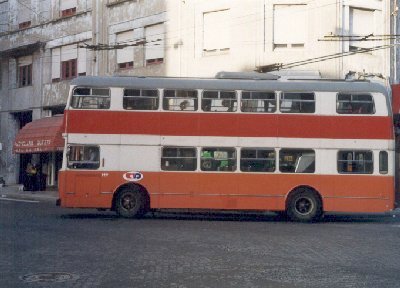 Scenes from the 1990s- L to R: An STCP bogie tram (no.270); "carro belgo" no. 284; trolley-bus no 140.
---
Tram Routes Now
Oporto currently has three operating tram services which are outlined on the Oporto Tram Routes page.
---
Trams
Trams still operate on three routes in Oporto and the operator, STCP, boasts a fine tram museum at Massarelos, on the river-front. For details see this site's Tram Museum page. The museum also has an excellent web site of its own.
---
Transport Museum
The Oporto Transport Museum / Museu dos Transportes e Comunicações is housed in the impressive Alfândega (Customs House) on the river-front. A brief description is here. Essentially this serves car enthusiasts with its permanent collection but there are changing temporary exhibitons too. Free entry at weekends (2011).
---
Copyright: ©


Compiled by John Laidlar