S.T.C.P.



Above, left: STCP MAN City Gold 2KC NG and, right, STCP Mercedes City Gold bus 2142 at Largo do Viriato, July 2001..
The city's municipal bus operator is STCP (Sociedade de Transportes Colectivos do Porto), whose web site is an excellent resource for the visitor. STCP grew out of the CCFP (Companhia Carris de Ferro do Porto) in 1946. STCP's first buses were delivered in July 1947 at a time when they were seen as an improvement on the ageing STCP tram fleet. Moreover, the electric power supply for the trams was unreliable in the 1940s. With just two vehicles at its disposal, the company started bus services on 1 April 1948 on service "C" between the Avenida dos Aliados and Carvalhida.
---
JOURNEYS
The best bus route for the tourist in Oporto is the 500, which is largely but not wholly operated by double-deckers. It runs from Bolhao (though some services terminate at Praca Liberdade), goes down the Avenida dos Aliados, past S. Bento station to the waterfront, which it follows all the way from Porto to Matosinhos market. It therefore runs alongside tourist tram 1 as far as the latter's terminus at Massarelos. The buses have each stop announced automatically and displayed electronically on board.
The image above shows a 500 service waiting at the Matosinhos Mercado terminus and Metro station.
---
Current Fleet
Until the late 1990s STCP ran both trolley-buses and conventional motor-buses. Indeed, the trolley-bus fleet comprised both single- and double-deckers. The bus-fleet includes gas-powered vehicles and in 2001 there were trials with three hydrogen-cell buses as part of the 10-city wide CUTE (Clean Urban Transport for Europe) programme; the buses cost 1.2 million Euros each, nearly five times as much as conventional vehicles.
Above: Left to right; 1: A double-deck Trolley bus waits at Valbom. Trolleybus operation has now ceased completely. 2: a 1981 scene, showing a Leyland Atlantean in the orange STCP livery waiting to depart for the Castelo do Queijo. 3: STCP Mercedes, no.1633, 4: MAN Duplex double-decker.
Right: Hydrogen-cell powered buses were operating in June 2005. Water vapour is exhaled from the vehicles above the rear window, as is clearly seen in the adjacent photo.
The STCP fleet comprised (summer 2011), 217 diesel-powered vehicles and 255 powered by natural gas. The list below, which will be updated, includes buses in use in recent years, some of which are now withdrawn:
Fleet numbers in 700 to 900 series
Volvo-powered vehicles (B10R and other B10 variants).
Fleet numbers in 1000 series
Volvo-powered articulated vehicles.
Fleet numbers in 1500 to 1700 series
Mercedes-powered vehicles.
Fleet numbers in 2100 series
Mercedes-powered vehicles, built by Caetano and branded as City Gold MB2 KD.
Fleet numbers in 3000 series
MAN-powered vehicles branded as City Gold 2KC NG. These vehicles run on gas.
Double-Deckers 15 of these vehicles, with three axles, were acquired in early 2011. They are MAN vehicles, 13.73 metres long, 4.06 metres high and seat 91 passengers, with 35 standing places allowed. They have three doors (two are exits) and two staircases. Each vehicle cost 395,000 euros. They are used (2011) on routes 200, 701, 702, 800, running from Bolhão. They tend to be confined to working on weekdays during normal working hours.
Tickets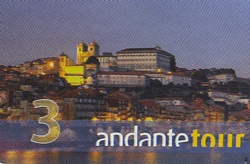 Ticketing is covered by the Andante system, allowing ticket holders to use one electronically validated ticket on buses and Metro vehicles. Whilst locals can also use the Andante season tickets on the trams, the tourist passes described below are NOT valid on any of the trams or the funicular at Guindais - just on buses and Metro. The tickets must be validated for each journey by holding in front of a machine on platforms at Metro stations and on each bus. There are no validators on the Metro trains themselves. Fines are very high if caught without a validated ticket. You do not need to vailidate on exiting a bus or Metro but you do if you are changing from one vehicle or mode to another.
Andante Tour 24 hour ticket - valid from the moment you first validate it for 24 hours - costs 7 euros (summer 2015)
Andante Tour 72 hour ticket - valid from the moment you first validate it for 72 hours - costs 15 euros (summer 2015)

The Andante Tour tickets cover the whole Porto transport system so you can even travel as far as Póvoa de Varzim, 30km north of the city centre - on such a ticket. Likewise, they are valid to and from the airport. Andante Tour tickets may be bought conveniently from the city's various Lojas Andante (Andante Shops), one of which is sited on the platform at Trindade Metro station, or from the Tourist Office (Rua Clube dos Fenianos, at the side of the town hall). They can be revalidated there, too, so once your day or 3-days are up, you can buy another day or three days of validity. You cannot currently buy Andante Tour tickets from the automatic ticket machines but you can buy Andante one-day passes; however, you have to be careful to buy one with the correct zone coverage for your journey(s).
---

Copyright: ©


Compiled by John Laidlar