Altrincham F.C. Youth Team, 2000-01 Season - Part One
Altrincham's Youth side are managed by George Heslop, ably assisted by Neil Thomason. The team plays in the Bolton and District Amateur Football Combination (North West Youth Alliance Under-18s' Premier Division). I am very grateful to George for his help in providing information for this page.
---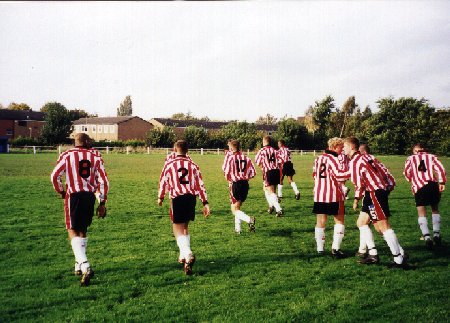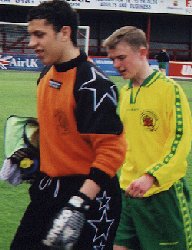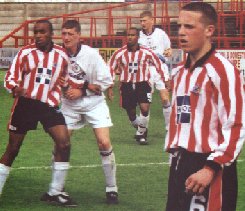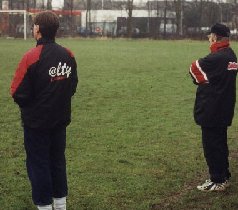 Left to right: The Youth Team warming up during their 4-1 home win over Walton-le-Dale; Alty keeper Dale Newbrook and captain, Steve Howe in NW Youth Alliance colours; Domain Esdale, Mario Daniel and Danny Leahey in action against Lancaster Youth; Neil Thomason and George Heslop run their eye over the lads from the touchline. Click images to enlarge pictures.
---
14 June 2001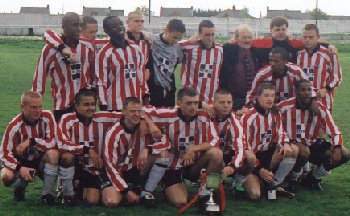 CUP WINNERS
Yesterday's picture on this page showed the Double-Winning Youth team after their Presentation Night last week. The picture left now shows the Youth team after they had won the NW Alliance Cup by defeating Prestwich Heys at Winsford on 20 May.
The line-up is: Back row: Domain Esdale, Rico Richards, Mark Drew, Dale Newbrook, Paul Robinson, George Heslop (manager), Mario Daniel, Neil Thomason (coach), Lee McDonald. Front Row: Vernum Rowland, Wes Wilkinson, Steve Howe (capt.), Paul Crowther, Paul Monaghan, Pat Claffey and Levi Kennedy. There will be more new pictures on this site of both the Youth and First team over the next few days.
---
16 June 2001
YOUTH DETAILS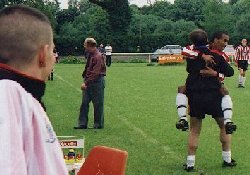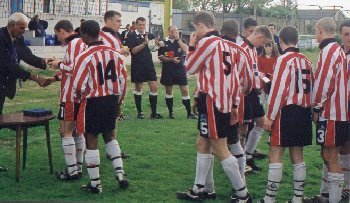 ---
Above, left: Paul Monaghan (left foreground) looks on as the Youth Coach, Neil Thomason, hugs Mario Daniel after his goal against Rossendale. Between them is George Heslop. Right: the players receive their medals from Fred Morris. Below; Domain Esdale heads clear in the Cup Final against Prestwich Heys at Winsford.
---

---
12 June 2001
DOUBLE WINNERS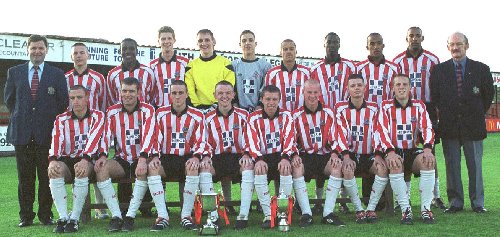 Pictured above, courtesy of Danny Claffey, is the Altrincham Youth double-winning side. The photo was taken last Friday at the trophy and medal presentation ceremony at Moss Lane. The line-up is:
Back row
Neil Thomason (coach); Paul Monaghan, Rico Richards, Pat Claffey, Neil Wolszczuk, Dale Newbrook, Wes Wilkinson, Otis Thomas, Domain Esdale, Levi Kennedy, George Heslop (manager);
Front row
Lee McDonald, Paul Crowther, Paul Robinson, Steve Howe (captain), Paul Tilley, Vernum Rowland, Lee Shillito, Danny Leahey. Thank you to Danny, father of centre-back Pat, for this excellent photograph.
8 June 2001
YOUTH TEAM HONOURED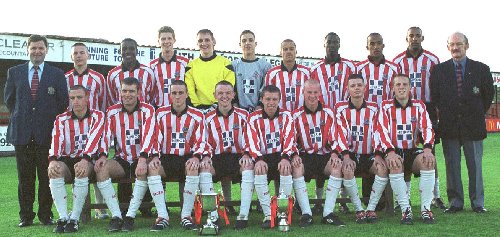 Altrincham Football Club laid on a Presentation Evening tonight for the "Double"-winning Altrincham Youth side.
The squad and their families were guests of the Club as officials of the Altrincham and District Football Association and the Bolton and District North West Youth Alliance presented them with their medals and trophies. Mr Jack Berry, Mr Norman Sheriff and colleagues from the Altrincham FA gave each qualifying player an award for representing the FA during the season before Mr Fred Morris of the Bolton Alliance handed over the League and Cup trophies and medals. Finally, Mr Morris awarded George Heslop with a much deserved "Manager of the Year" trophy. George's assistant, Neil Thomas was also rightly honoured with an award from George for his hard work throughout the season.
The evening was compered by Altrincham FC Chairman, Mark Harris, who underlined the importance of the Youth Team to the Club's future. He also thanked the team's parents for their unstinting support throughout the 2000-01 season. After the awards, George Heslop indicated that ten of this year's squad were still eligible for next year's competition. He also confirmed that Altrincham would once again be entering the FA Youth Cup, which starts in July. Many of last year's squad have also progressed onto the books of the Altrincham Reserve side and there is real optimism that a number of these lads will establish themselves at that level and even make their mark in the first team during the coming twelve months.
Pictured by Danny Claffey on the Moss Lane pitch, which thanks to Peter Barry looked in superb condition, is the squad as they lined up tonight before the awards ceremony:- Back row Neil Thomason; Paul Monaghan, Rico Richards, Pat Claffey, Neil Wolszczuk, Dale Newbrook, Wes Wilkinson, Otis Thomas, Domain Esdale, Levi Kennedy, George Heslop; Front row Lee McDonald, Paul Crowther, Paul Robinson, Steve Howe, Paul Tilley, Vernum Rowland, Lee Shillito, Danny Leahey. For details of the team and their exploits last season, visit the archived Youth Team 2000-01 and Youth Team Players 2000-01 pages. The current Youth Page (2001) is here.
---
27 May 2001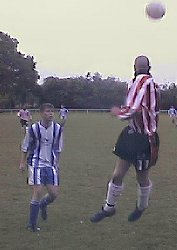 After a quiet start, Altrincham Youth stepped up a gear after half-time to clinch the Youth Alliance championship convincingly in their last match of the season, at Wilmslow Albion F.C.'s ground. The Alty team have therefore now achieved the Double, having lifted the League Cup last Sunday. Alty took the lead after 33 mins after Leahey had done well to win a corner on the right. His corner found Esdale's head at the back of the box and the ball fell for Mark Drew on the edge of the box.
His bobbling shot found the left corner of the net, despite a handling offence on the line by a defender. The referee thankfully chose to award the goal and avoid a spot-kick and sending-off. Daniel replaced Wilkinson at half-time and within minutes the sub went up the right, from a feed by Leahey.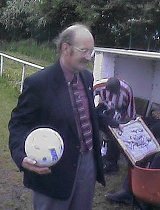 Mario's cross found Mark Drew unmarked and after controlling the bobbling ball, he drove it past the keeper (48 mins). Mark is seen, above, during this afternoon's game. Altrincham proceeded to dominate the second period and deservedly scored a third when a fine ball forward by Robinson found Daniel who scored neatly (58 mins). Monaghan replaced Drew (68 mins), who is seen in action, left, during the game, and Shillito came on for Richards (77 mins). In the last ten minutes a Claffey header, just over the bar (82 mins), and two fine shots by Daniel (85 mins) and Shillito (88 mins), which were well saved, almost added to the tally.
Rossendale's chances were few; a fine save from Newbrook foiled a good shot by their number eight (54 mins) and Howe cleared up a header from Robinson which went past the advancing Newbrook and threatened to go into his own net (86 mins). After the match, coach Neil Thomason organised a deserved presentation by Steve Howe of a plaque to George Heslop, (above, right), manager of the Altrincham Youth team. Alty's end of season league record is on the Youth Page Two. TEAM 1-Newbrook 2-Rowland 3-Robinson 4-Howe (capt) 5-Claffey 6-Leahey 7-Esdale 8-McDonald 9-Wilkinson 10-Richards 11-Drew. SUBS: 14-Daniel 15-Tilley 16-Crowther 17-Monaghan 17*-Kennedy
---
25 May 2001
WAITING GAME
Altrincham Youth need to win their game against Rossendale, (at Wilmslow Albion, Oakwood Farm, Styal Road on Sunday 27th at 2pm), to be sure to clinch the Bolton and District N.W. Youth Alliance championship. Their closest rivals for the title, Prestwich Heys and Morecambe play each other on 30 May. Morecambe's 17-0 win over Euxton now gives them the best goal difference of the top teams. Updated table is
here
.
---
20 May 2001
Altrincham Youth beat Prestwich Heys 4-3 this afternoon at Winsford in the Bolton and District N.W. Youth Alliance Cup Final. The game was played on a bobbly pitch and watched by a respectably sized crowd of about 100, which included Altrincham Chairman Mark Harris, Director Mark Eckersall and first-team coach Graham Heathcote. After a fairly even opening spell, Rico Richards opened the scoring after 24 minutes.
However, it was Wesley Wilkinson who deserved much of the credit for, after receiving the ball from McDonald and being driven very wide of goal by the keeper, he still managed to knock the ball across the face of the goal for Richards to tap in at the far post. A fine save by Newbrook from a free-kick by the Heys's number ten ensured the lead was preserved before Wes Wilkinson volleyed home number two (37 mins). The goal stemmed from a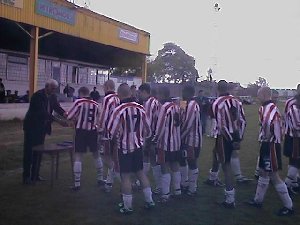 free-kick by Mark Drew which came back off the wall and Drew then expertly chipped it over the defence for Wilkinson to finish neatly.
However, Heys got back in the game when Steve Howe was adjudged to have fouled an opponent and the resulting penalty was put away well (40 mins). There was a lengthy stoppage after 56 minutes when Levi Kennedy was struck on the head by the ball and had to be replaced by Paul Crowther. Soon after play had resumed Rowland's ball forward to Richards led to a neat interplay with Wilkinson and Richards chipped the ball home to make the score 3-1 (59 mins). After Mario Daniel had replaced Richards (75 mins) and Paul Tilley had come on for Domain Esdale (77 mins), Danny Leahey appeared to have wrapped up the game when he scored directly from a free-kick, though the keeper really should have kept it out (78 mins). But Prestwich finished strongly when their number 4 firmly headed home a corner (80 mins).
They then scored an excellent goal, directly struck off the crossbar from a free-kick, conceded by Mark Drew just outside the box (85 mins). Mario Daniel was unable to finish the game off with a chance just before the final whistle but Prestwich almost snatched a last-gasp equaliser when their number 11's firm shot was superbly tipped round the post by Dale Newbrook. Altrincham nevertheless held on for a deserved victory. The cup and medals were presented on the pitch (see picture) and a couple of bottles of champagne miraculously appeared from amongst the strong contingent of Alty players' parents and these were duly sprayed around the team in best Grand Prix tradition!
TEAM: 1-Newbrook 2-Rowland 3-Drew 4-Howe (capt) 5-Claffey 6-Leahey 7-Esdale 8-Kennedy 9-Wilkinson 10-Richards 11-McDonald SUBS: 14-Daniel 15-Tilley 16-Crowther 17-Monaghan
COUNTY LOSE
Manchester County Youth lost the Northern Counties Final 0-2 yesterday with Alty's Daniel, Robinson and McDonald in their squad.
---
18 May 2001
DATEN SPORTS 1 ALTRINCHAM YOUTH 4
For Danny Claffey's excellent match report on this fine win against Daten Sports at Charnock Road, Warrington, last night, please click
here
.
---
13 May 2001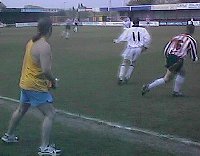 Lancaster came to Moss Lane after a 1-0 win over Morecambe which opened the door once more to Altrincham to win the league championship but the game was in jeopardy when none of the match officials arrived at the ground.
Alty Youth coach Neil Thomason refereed the game, whilst two of the Alty players' fathers ran the lines; Dale Newbrook's father is seen, left, very capably performing his linesman's duties. After only 4 minutes Lee McDonald opened the scoring, picking up a loose ball just outside the Lancaster box, advancing into the area and tucking the ball firmly just inside the left-hand upright. Lancaster pressed hard in the opening stages but their equaliser was fortunate, a through-ball taking a wicked bounce over the advancing Newbrook.
Altrincham regained the lead when Vernum Rowland's fine ball into the box, from the left, found Mario Daniel at the back post and he made no mistake with a well-taken effort (27 mins)- his 7th goal in 5 games.
Altrincham dominated the second half, with keeper Newbrook protected from any real danger by a solid back-line. Although substitute Wes Wilkinson scored an offside goal, hit the post and induced a fine save from the Lancaster keeper, Alty could not add to the score.
Wilkinson had replaced Daniel after 74 minutes and Paul Robinson came on for Domain Esdale after 83 minutes. Neil Thomason put in a fine performance as referee and was scrupulously unpartisan. TEAM: 1-Newbrook, 2-Rowland, 3-Drew, 4-Howe(capt.), 5-Claffey, 6-Leahey, 7-Esdale, 8-Kennedy, 9-Daniel, 10-Richards, 11-McDonald. SUBS: 12-Wilkinson, 14-Shillito, 15-Tilley, 16-Robinson, 17-Monaghan.
Alty have a vital midweek game at Daten Sports, for which a number of regulars may be unavailable, and play the league cup final against Prestwich, at Winsford, next Sunday (k.o. 2pm). Three Alty players are set to figure in the Northern Counties' Youth Championship Final next Saturday at Newcastle. Alty full-back Paul Robinson, midfielder Lee McDonald and striker Mario Daniel are all likely to be in the squad for that game.
---
9 May 2001
After Prestwich had hit the cross-bar from a free-kick, subsequently cleared by Claffey, and also struck an upright, Altrincham took the lead on 34 minutes when Daniel latched onto a through ball before drawing the keeper to score.
The second goal was a superbly struck left-wing free-kick from Mark Drew which crashed into the net off the crossbar (52 mins). Heys pulled one back through their number eleven (59 mins) and Newbrook had to make a fine one-handed save from a header (63 mins) before a superb 40-yard run up the left-wing by Lee McDonald led to Alty's third goal.
Beating defenders on the way, Lee was upended just outside the box. From the short free-kick, Alty hit the post only for Daniel to react quickly and poke the ball into the net (66 mins). Prestwich hit the cross-bar with a header (74 mins) but, otherwise, Alty held on fairly comfortably for their win.
TEAM: 1-Newbrook 2-Rowland 3-Drew 4-Howe 5-Claffey 6-Leahey 7-Esdale 8-Kennedy 9-Daniel 10-Richards 11-McDonald (Subs used 12-Wilkinson 14-Shillito 17-Monaghan).
---
6 May 2001
In today's NW Youth Alliance match, at Moss Lane, against the Northern Under-19 Alliance side from Yorkshire, the NW side won 2-0, to triumph 3-0 on aggregate. Seven Altrincham Youth players started the game (Newbrook, Howe, Claffey, Robinson, Kennedy, Daniel and Richards) whilst Monaghan and Tilley appeared as subs after 61 and 80 minutes respectively.
Mario Daniel got the opener on the stroke of half-time, from close range, whilst a non-Alty player (Bamber of Lancaster?) got the second, finishing off a fine move involving Richards and Leahey (83 mins). Though a well-contested match, the NW side were deserved winners.
OTIS'S TITLE
Youth player Otis Thomas scored twice for Hursts as they won the Manchester Saturday Morning Premier Division title and remained unbeaten all season.
---
2 May 2001
ALTY YOUTH 5 RUNCORN 1
Two goals each from Richards and Daniel, and one from Drew saw Alty Youth win comfortably. For a match report, click
here
. For the league table click
here
.
---
29 April 2001
YOUTH MATCH OFF
The Youth v Rossendale match, scheduled for today, was postponed. The next game is on Wednesday (2 May), a 6-30pm kick-off versus Runcorn at Wythenshawe Town (Timpson Rd).
NB New and amended fixtures below.
Youth player Mario Daniel is reported to have scored for Trinidad Youth in a match against Fluminense in Brazil. Mario is in the Trinidad & Tobago Under-17 World Cup squad.
---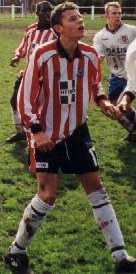 YOUTH TEAMS REACH FINALS
In a league cup semi-final at Moss Lane last Sunday, Alty Youth beat Morecambe. Altrincham FA Youth side, which includes many Altrincham FC players, also reached their cup final, by beating Stockport FA. There will be more details of these games, here, hopefully over the weekend. Pictured, left, is Lee Shillito performing as sub. in a recent league game against Morecambe.
---
22 April 2001

McDONALD FIRES WINNER
Alty Youth midfielder Lee McDonald scored the only goal as Manchester County Youth reached the Northern Counties Final for the first time in 20 years. Lee's performance was all the more notable as it came just four days after his mother had died, following a long illness.
Alty colleague Mario Daniel was unavailable for the Semi-Final but should be alongside Lee in the Final squad. Lee is seen (left) in action last week for Altrincham Youth. This and six other new pictures of Altrincham Youth team players have been added to the Youth Page 2.
---
15 April 2001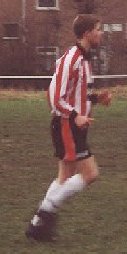 Altrincham had enough chances to have won this top of the table clash but only Rico Richards's fine 29th minute finish, from an excellent ball played forward by Levi Kennedy, separated the sides at half-time. Morecambe's equaliser came after 65 minutes from a controversial penalty when a tug on a Morecambe player was spotted by the linesman, rather than the referee.
Morecambe's number two smashed home the spot kick past Wolszczuk who, otherwise, had little to do all afternoon as the Alty defence of Rowland, Howe, Claffey (pictured left) and Robinson played solidly. Richards and his strike partner, Wesley Wilkinson gave way to Lee Shillito and Paul Fitzhenry in the closing stages but they were unable to grab a winner.
Alty team: 1-Wolszczuk, 2-Rowland, 3-Robinson, 4-Howe (capt), 5-Claffey, 6-Leahey, 7-McDonald, 8-Kennedy, 9-Wilkinson, 10-Richards, 11-Crowther. Subs: 17-Shillito (for Wilkinson 70), 16-Fitzhenry (for Richards 79) and Monaghan (for Crowther 88). A number of today's team will turn out for the Reserves tomorrow night at Morecambe.
---
9 April 2001
In a very entertaining League Cup match at Moss Lane tonight
Alty Youth
gave an impressive second-half performance to build on a 1-0 interval lead. Levi Kennedy headed in from close range after only 3 minutes and although Altrincham had the better of the half, Euxton enjoyed some spells of pressure and never looked like crumbling as they did when they lost the league match between these sides by ten goals at the start of the season.
Wesley Wilkinson made it 2-0 after 54 minutes before he gave way to Lee Shillito whose pace and skill were soon put to good effect. However, against the run of play, Euxton pulled back a goal when Alty keeper Neil Wolszczuk was unable to hold a fierce free-kick and the rebound was knocked past him (67 mins).
Shillito scored the third with a rasping shot from right of goal after a strong run into the box (76 mins) and Rico Richards finished the scoring five minutes from the end after more good work by Shillito. Altrincham showed a lot of pace going forward even without Mario Daniel and Otis Thomas. (Alty team: Wolszczuk, Rowland, Robinson, Howe, Claffey, Leahey, Tilley, Kennedy, Wilkinson, Richards, Crowther. Subs included Shillito and Monaghan).
---
8 April 2001
MARIO CHOSEN
Alty Youth's Mario Daniel has been chosen for Trinidad & Tobago's Under-17 World Cup squad.
---
7 April 2001
PRESTWICH MATCH OFF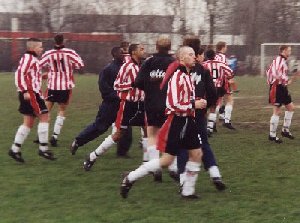 Tomorrow's Youth match against Prestwich has been postponed. Pictured left is the
Youth side
before the home game against Rylands (l. to r. in team strip are Paul Monaghan, Paul Crowther, Levi Kennedy, Adam Schofield, Mario Daniel, Pat Claffey and Danny Leahey- click photo to enlarge it).
---
25 March 2001
FA YOUTH WIN Altrincham FA Youth side, managed by George Heslop, beat Stalybridge FA 3-0 today. The side is largely made up of Altrincham FC's youth team.

---

22 March 2001
DIP IN FORM Alty Youth lost 1-2 to Runcorn last Tuesday and by the same score to Wright Robinson College yesterday. However, nine of the local representative side which played North Yorkshire Academy U-19s at Garforth on Sunday were from Altrincham FC Youth's side and a Mario Daniel goal gave the visitors a 1-0 win.

---

13 March 2001
ALTY YOUTH GO DOWN Alty Youth lost on Sunday, their second successive defeat, going down 2-3 at Morecambe. After eight games without conceding a point, they have now taken only one point from the last three matches.

---

24 February 2001
FOUR PLAYERS PROGRESS Four Youth players, - Pat Claffey, Levi Kennedy, Mario Daniel and Paul Crowther - all played for the Reserves in their 1-1 draw with Bamber Bridge at Moss Lane last Wednesday.

---

20 February 2001
George Heslop's Youth side beat Stockport County Youth 3-1 in a friendly at Ridgeway Road, Timperley, yesterday afternoon. Although many of Stockport's first-choice players were allegedly involved with their Reserve side and did not play in this game, the Alty team was also virtually completely new.
This was because the first-choice Alty Youth eleven had played the day before and because it was an opportunity to look at many new, younger players to replace those who will be over-age for the Youth team's campaign next season. It was therefore a very good result for Altrincham, especially as it was an away game on a ground regularly used by Stockport's Academy teams. There is a brief report of last week's fine win over Stockport County here, based on details kindly provided by George Heslop.

---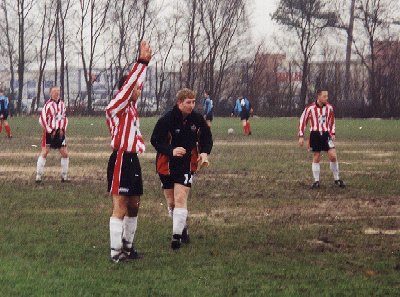 18 February 2001
ALTY YOUTH STAY TOP
Altrincham Youth team drew 1-1 today with Warrington's Rylands FC at Wythenshawe Town's ground. After going ahead just before the break, Rylands gained a deserved draw in the second half. For a match report, click
here
. Youth captain Steve Howe with André Lewis, Danny Wright and Danny Leahey are pictured before the game (left).
---
7 February 2001
ANOTHER WIN
Alty Youth beat Lancaster 3-2 last Sunday to retain their 100% league record this season, but conceded their first goals away from home this campaign. Match report
here
.
---
17 January 2001
ALTY YOUTH 4 EUXTON VILLA 0
The scorers in Sunday's win over Euxton were Monaghan, who got two, Crowther and Schofield. The revised table is now below, as is the revised fixture list which includes a friendly against Stockport County youth on 19 February at Ridgeway Road, Timperley. Other results this week were: Lancaster City 2 Daten Sports 3; Rossendale Utd 4 Walton-le-Dale 1; Rylands 2 Runcorn 7.
---
10 January 2001
WALTON-LE-DALE 0 ALTY YOUTH 8
Despite wind and rain, hat-tricks for Paul Crowther and Mario Daniel plus goals from Levi Kennedy and Otis Thomas gave Alty Youth a crushing win to maintain their 100% record at the top of the League (see table below). They have also yet to concede a goal in 6 hours of away games this season!
They raced into a five goal lead inside 17 minutes with goals from Crowther (7 & 11 mins), Daniel (12 mins) and Kennedy (17). The first three goals were all laid on by Paul Monaghan. Walton then massed their defences and the goal-deluge slowed. Further goals came from Crowther (52), Daniel (59) and, last of all, Otis Thomas. Gary Ferguson and Lee MacDonald made their debuts, as substitutes. In another recent match, Rylands beat Morecambe 2-1.
---
Older news (year 2000) is now on the Youth Page Two
---
Youth Team Fixtures
Bolton and District Amateur Football Combination (North West Youth Alliance Under-18s' Premier Division) Cup matches and Altrincham F.A. games are also shown below. NB There is an error in the goals for/against data supplied by the League as the F/A columns do not tally.


DATE
AT
AGAINST
RES
SCORERS
3.9.00
A
EUXTON VILLA
10-0
Wright 4, Crowther 3, Monaghan 2, Schofield
10.9.00
A
ROSSENDALE UNITED
2-0
Monaghan 2
17.9.00
H
DATEN SPORTS CLUB
3-2
Crowther (pen), Tilley, Thomas
24.9.00
N
ALTRINCHAM F.A v MACCLESFIELD F.A.
1-0
District Youth Challenge Cup, at Trafford FC. Schofield 70
1.10.00
A
RYLANDS F.C.
2-0
Daniel, Thomas
22.10.00
H
WALTON-LE-DALE
4-1
Daniel (17), Schofield (30, 42), Monaghan (pen. 72)
7.1.01
A
WALTON-LE-DALE
8-0
Crowther (7,11,52), Daniel (12,13,59), Kennedy (17), Thomas ( )
14.1.01
H
EUXTON VILLA
4-0
Monaghan (44,50) Crowther (74) Schofield (89)
28.1.01
A
LANCASTER CITY
3-2
Crowther (25), Daniel (32,38)
18.2.01
H
RYLANDS FC
1-1
Daniel (42)
19.2.01
A
STOCKPORT COUNTY YOUTH
3-1
Daniel (7), Wilkinson (55), Coverley (88)
4.3.01
A
PRESTWICH HEYS
0-2
At Sandgate Road
11.3.01
A
MORECAMBE
2-3
At Lanc. & Morc. College Monagahan 2
18.3.01
A
NW ALLIANCE v NORTHERN ALLIANCE
1-0
At Garforth Daniel
20.3.01
A
RUNCORN
1-2
Daniel
25.3.01
H
ALTRINCHAM F.A. v STALYBRIDGE F.A.
3-0
Kennedy (38), Wilkinson (72), Fitzhenry (77)
28.3.01
A
ALTRINCHAM F.A. v RUNCORN F.A.
4-1
At Warrington T.-?scorers-
9.4.01
H
EUXTON VILLA
4-1
Cup match Kennedy (3), Wilkinson (54), Shillito (67), Richards (85)
15.4.01
H
MORECAMBE
1-1
Richards (29)
22.4.01
H
MORECAMBE
3-2
Cup S/F Wilkinson, Leahey, Shillito
24.4.01
A
ALTRINCHAM F.A. v STOCKPORT F.A.
0-0
At Woodley Sports
2.5.01
H
RUNCORN
5-1
Daniel (11,51) Richards (18,37) Drew (46)
4.5.01
A
ALTRINCHAM F.A v WIRRAL & DISTRICT F.A.
2-2
Lost 5-6 on penalties; at Vauxhall Motors. Penalty scorers- Claffey, Monaghan, Tilley, Drew, Shillito
6.5.01
H
NW ALLIANCE v NORTHERN ALLIANCE
2-0 (3-0 aggreg.)
Daniel (45), Bamber (83)
9.5.01
H
PRESTWICH HEYS
3-1
Daniel (34,65) Drew (52)
13.5.01
H
LANCASTER CITY
2-1
McDonald (4), Daniel (27)
16.5.01
A
DATEN SPORTS
4-1
Wilkinson (28,40), Richards (65pen), Drew (68)
20.5.01
A
PRESTWICH HEYS
4-3
CUP FINAL at Winsford FC Richards (24,59) Wilkinson (37), Leahey (78)
27.5.01
H
ROSSENDALE UTD
3-0
At Wilmslow Albion, Oakwood Farm, Styal Rd. Drew (33,48) Daniel (58)
---
For Part Two of the YOUTH TEAM PAGE- PLAYER DETAILS, click here
---