Altrincham Football Club News Archive
29 16 August to 8 September, 2002
8 September, 2002
ALTRINCHAM & DISTRICT FA 5 MID-CHESHIRE FA 4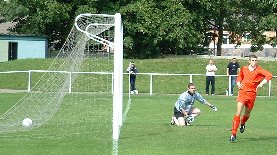 In an amazing game, Altrincham let a four-goal lead slip to 4-4, before Steve Lunt got his third goal of the game to decide the outcome. The Altrincham team, managed by George Heslop, comprised the Altrincham FC youth side. Steve Lunt is pictured above after one of his goals. Match report
here
.

VERNUM AT FLIXTON
The
Pink
reports that Flixton's "new signing Vernum Rowland" (right) won his side a penalty yesterday in their defeat at Skelmersdale. 17 year-old Vernum made 11 starts and 5 sub appearances for Altrincham's first team last season.
OLD BOYS
Leigh RMI, for whom Stuart Coburn and Ged Kielty played on Friday, are now registering ex-Alty boss Mark Ward on playing forms for the Conference. Terry Bowker was allegedly at fault for Accrington's first goal against Stalybridge yesterday, as was Adam Farley for Lancaster's opener at Droylsden. Stuart Locke also played for the Bloods, as did Chris Timons for Celtic. Carl Furlong again captained Colwyn Bay but they have yet to gain a league point this season. At the other extreme Mark Sertori's Accrington won their seventh game in succession yesterday to head the UniBond table. Steve Hawes again turned out for Worksop Town. Ex-Alty keeper Tim Clarke is now playing for Halesowen Town whilst former Alty reserves Ian Horton and Paul Johnson were in Trafford's first team which lost at Kendal. Niell Hardy scored for Radcliffe Borough, Jeremy Illingworth did so for Stocksbridge PS and Leroy Chambers netted for Belper Town.
UNITED DATE
As well as the Manchester United Reserves' league games to be played at Moss Lane (see
list
), the Reds' Manchester Senior Cup tie against Manchester City Reserves will also now be at Moss Lane on Thursday, 3 October at 7pm.
---
7 September, 2002
ALTRINCHAM 4 HYDE UTD 1

Above, Ryan, Moore, Talbot, Band and McDonald leave the pitch at the end of the game. Click on the League Games link, above left, for updates to statistics, line-ups and the league table.
Match report here.
Other scores:
Barrow 2 Whitby T. 2
Blyth S. 4 Frickley A. 2
Burscough 2 Hucknall T. 0
Colwyn B. 0 Marine 2
Droylsden 1 Lancaster C. 5 Whittaker got all five, including 3 penalties in 12 minutes!
Gainsborough T. 2 Vauxhall M. 1
Gateshead 0 Ashton U. 1
Harrogate T. 1 Wakefield & Emley 2
Stalybridge C. 1 Accrington S. 4
Worksop T. 2 Runcorn FC Halton 2


KEEPERS IN AND OUT
Altrincham have released keeper Nick Stephens (right) who played in the opening three games of the season. The club has acquired the services of two new keepers this week. They are Richard Acton, formerly at Hyde United and Runcorn, and Spencer Liddiard, who has had spells at Swindon Town and Wealdstone.
UNIBOND NEWS
Stalybridge have signed a 19 year-old left back Adam Douglas from Preston North End. He is in the squad for tomorrow's game against Accrington Stanley. Celtic's Dave Ridings has been banned for five weeks from 7th October by the Cheshire FA for his dismissal in the Ray Stanley Memorial Shield game. He will miss nine games! His team-mate Colin Potts, sent off against Colwyn Bay, has been banned for three matches. Bradford PA have re-signed goalkeeeper Lutz Pfannenstiel, who made his debut against Alty last season. Pfannenstiel was re-signed from a New Zealand club just in time to beat the transfer window closure but team-mate Ian Richards, who had also been in New Zealand, was too late to re-sign, so he will now have to wait till January 2003. Barrow expect to lose striker Grant Holt to Carlisle United. Holt hit 26 goals last season for the Cumbrians and has just returned from playing in Singapore.
---
6 September, 2002
BAND KEEN TO PLAY
Peter Band, who needed eight stitches in a mouth wound at Blyth last Saturday, is determined to play against his former club, Hyde United, tomorrow. If he does so, he will be Alty's captain for the day. Bernard Taylor told the MEN "there's a fair chance he'll be passed fit". The paper also reports that, despite three clean sheets in the last three games, Bernard's latest transfer target is Richard Acton, the former Hyde United and Runcorn goalkeeper.
TODAY'S UPDATE
A list of the updated bids for the Fundraising Auction of sports memorabilia is here. Please keep your bids coming as all proceeds will benefit the Club.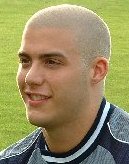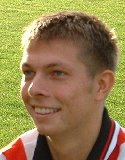 MORE NEW FACES
Two more of Alty's new faces this season are seen here. Left is goalkeeper Andy Moore, who has joined from Squire's Gate of the NW Counties Division One. So far, he has kept goal in three games and has yet to be beaten. Pictured, right, is midfielder Andy Tunnicliffe, who was previously on the books of Manchester City. Andy was with us last spring, on loan from City, when he broke his leg against Hyde United. He has just returned to fitness and has, so far, made two substitute appearances for Altrincham this season. Alty vcan expect to see some familiar faces opposing them tomorrow; Dave Swanick, Anthony Hargreaves, Leon Smith and Lee Evans were all at Moss Lane last season but are now at Hyde.
UNIBOND NEWS
Accrington Stanley, with five straight wins in August, have been named UniBond Club of the Month for that month. They also were awarded the Endsleigh Insurance award as leading goalscorers for the month. Both prizes were awarded at Wednesday's game against Vauxhall Motors on Wednesday evening, kick off 7.45pm, which Stanley won. Blyth Spartans have put a computerised impression of their Croft Park stadium on to their website to show how it will look once improvements are completed. It shows new stands behind the Plessey Road and Kingsway ends as well as extensions to the Main and Federation Stands. Gateshead's acting chairman Mike Coulson has confirmed that outgoing chairman John Gibson "has left the club with no debts plus enough money in the bank to keep the club firmly secure for the rest of this season. Any money raised now will be put in the bank for improving the squad and for next season".
---
5 September, 2002
SPORTSMAN'S DINNER
Also, Altrincham FC are running a Sportsman's Dinner on October 3rd at the Cresta Court Hotel, Altrincham at 7.30pm (for 8pm). The tickets cost £25 or £250 for a table of ten people. The former Nottingham Forest star John McGovern will be the main speaker with support from Al Conway, a magician and comic. Please ring the club on 928-1045 to purchase tickets.
NEW NAME

The McDonald's Family Stand at Moss Lane (above) is to be renamed the Blue Cannon Family Stand at a naming ceremony on 8th October. More on this to follow.
ALTY 100/200
The Board has announced that those who subscribed to the Alty 100 scheme will be listed in a future matchday programme and badges for the scheme may be had from Dave Tracey for £5. The Alty 200 scheme will not continue. Those who signed up for the Alty 200 are encouraged to invest in the Saturday Yankee instead. Standing orders for the Yankee can be obtained from the Club Office, (address at top of page).
---
4 September, 2002
STANLEY MARCH ON
Accrington S. 2 Vauxhall M. 1
Bradford PA 0 Hucknall T. 3
League table.
ASHTON BUS
The times and fares for the supporters' coach to Ashton on 14 September have now been added to the site - click the Away Travel link above. Click on Through the Years for a record of Alty games in the past on 7th September, the date we play Hyde United this year.
ALTRINCHAM 0 BURSCOUGH 0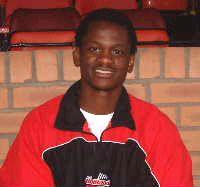 Altrincham had another player stretchered off against Burscough to add to their injury problems. Match report here.
Alan Johnson's picture of Adewale Ajetunmobi is right; click here for Alan's other pictures of the game.
CSC
Altrincham's Cheshire Senior Cup match away at Crewe Alexandra has now been set for Wednesday 18th September at 7.45pm. This is a re-run of last year's final which Crewe won.
---
3 September, 2002
RESULTS
Altrincham 0 Burscough 0
Gainsborough T. 2 Frickley A. 0
Lancaster C. 2 Gateshead 1
Stalybridge C. 2 Marine 1
Wakefield & Emley 1 Ashton U. 1
Whitby T. 4 Harrogate T. 2
Worksop T. 1 Blyth S. 1
Wednesday 4th
Accrington S. v Vauxhall M.
Bradford PA v Hucknall T.
CSC
In last night's Cheshire Senior Cup match Hyde, whom we meet on Saturday, lost 1-3 to Northwich. With the score at 1-1 after 88 minutes ex-Alty full-back Dave Swanick was harshly judged to have brought down Jimmy Quinn. Blundell converted the penalty and then scored again at the death. Ex-Alty reserve, Lee Evans, headed Hyde's goal and Anthony Hargreaves was also in Hyde's team. Alty are away at Crewe Alexandra in the CSC, on a date to be confirmed.
GATESHEAD IN TROUBLE
Alan Percival, on the Gateshead website, reports that after the club have lost their main sponsor and many of their players over the last year and also had a change of manager, they have now lost their main backer, Chairman John Gibson. The Evening Chronicle reports Gibson as saying, "After much soul-searching and deliberation I have decided to resign as chairman and as a director. For 12 years, I have been in sole charge of raising the main money from backers which has kept the club alive and it had become an intolerable burden alongside a full- time job. Without considerable help from the likes of Alan Shearer, Sir Bobby Robson, Freddy Shepherd, Paul Gascoigne and Goffy of Century Radio, the club would have folded last Christmas. It is a miracle we survived and it is a bigger miracle we have paid all outstanding debts and have money in the bank. I am proud of that and feel it is the appropriate moment for me to step aside, with the job of saving the club completed, and allow someone else to drive the club on". Club Secretary Mike Coulson has now taken at least temporary charge of the Club. Altrincham fans will have every sympathy with Gateshead's predicament.
WAKEFIELD TIMES
The S.A.F.E supporters' coach times and fares for the trip to Wakefield on 10 September are now on the Away Travel page.
ROLY'S 30 YEARS
Today's Daily Telegraph has an article on Roly Howard to commemorate his 30 years as manager at Marine. Howard, 67, says "The chairman's been here longer than me, the club's still run by a committee and the dressing rooms are crap". The secret of his success he says is that "I have come to the conclusion that it's what you do in training and talk about before the game and at half-time" rather than bawling at the players which achieves results. Roly still takes the team kit home to be washed and organises fundraising, including an annual Golf Day with his friend Kenny Dalglish, whose house he first visited on his window-cleaning round! Another of Roly's views is that "players are players, whether they are in the Premiership or here. Here, they just make more mistakes"!
COLWYN BAN
The closing of the international transfer window on 31 August means that Colwyn Bay cannot sign anyone from England till New Year, 2003. Likewise, English players such as Carl Furlong, would not be permitted to leave the Bay for an English club till the same date.
EX-ROBIN'S BAD INJURY
Flixton's David Esdaile, who used to play for Altrincham and whose son Domain was an Alty Youth player over the last two seasons, suffered a triple leg fracture last week when his side drewin an FA Cup qualifier draw with Goole Town last week. After one of their players was sent off, Flixton then lost the replay on penalties. ay for an English club till the same date.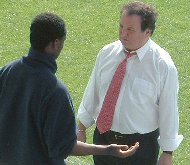 NEW SIGNING
Alty's new signing (see below) has now been named as Adewale Ajetunmobi, a speedy Nigerian striker with experience at Queen's Park and Hamilton in Scotland and, in England, at Chester City and Hednesford Town, from whom Altrincham have signed him. He had most recently been training with Lancaster City. He is pictured above with Bernard Taylor at the Blyth game on Saturday.
---
2 September, 2002
BLOODS GO SECOND
Today's result: Droylsden 2 Runcorn FC Halton 0
League table.
BLYTH SPARTANS 0 ALTRINCHAM 2
Click here for a match report and pictures of the game.
"EXILE" TO AID OF BAND
Jacqui Forster, the Alty in Exile coordinator tells me that the lady who answered the tannoy request for a doctor to assist the injured Peter Band on Saturday at Blyth was the sister of an Exiles' member who was watching her first Alty away game. Peter had six stitches inserted in his lip but should be fit for Tuesday's game.
ANOTHER LEGEND
Another of Terry Rowley and Bill Coop's "Alty Legend" profiles has been added to the site, here; it features the late Mickey Brooke who played for Alty in the 1970s.
SUPPORTERS' COACHES
S.A.F.E. are reverting back to Carsville Coaches for their away travel service, following a recent spell using Goodwins Coaches. For more on this, see the S.A.F.E. page.
---
1 September, 2002
BLYTH SPARTANS 0 ALTRINCHAM 2

A fine performance from Altrincham deservedly resulted in a win away at Blyth Spartans in a match in which both sides were reduced to ten men and Rod Thornley scored twice but missed a penalty (above). Alty are now 13th.

Click here for a full match report and more pictures of the game.
BERNARD SALUTES FANS
Even before yesterday's 375 mile round-trip to Blyth, manager Bernard Taylor was saluting the Alty fans in the Pink. Following the Gateshead win last Monday, Bernard said, "Our fans were nothing short of magnificent and the players made of point of asking me if there was some way of thanking them...Our supporters won us the game, they truly never stopped urging us on".
NEW MEN?
Alty are believed to have acquired a new striker, a Frenchman formerly at Lancaster City; no name has yet been given out. The Pink also reports that Bernard Taylor is "still in the market for a new goalkeeper". However, two appearances and no goals conceded by Andy Moore must be making Bernard think again.
OLD BOYS
The NLP reports that the reason why Stalybridge have listed ex-Alty captain Chris Timons is to fire him up after some allegedly poor pre-season games. Timmo is still in the side but Terry Bowker was on the bench for Celtic. Stuart Coburn played for Leigh, who beat Margate, in front of just 327 fans- 200 fewer than were at Blyth for Alty's game yesterday. Colwyn Bay were without Carl Furlong (injured) and Stuart Scheuber (dropped) against Droylsden, who included Stuart Locke, Adam Farley and James Glendenning in their squad. Hyde included Anthony Hargreaves and Dave Swanick in their starting line-up, whilst Lee Evans was a substitute. Mark Sertori and Barry Shuttleworth again helped Accrington to a win, as did Steve Hawes for Worksop. In the League, Danny Adams's Macclesfield lost at home. Mario Daniel made his first-team debut for Trafford, who crashed out of the FA Cup 2-1 at Horden yesterday. The Trafford scorer was another ex-Alty youngster, Dave Collins. Adam Lillis scored for Witton as they won 6-3 at Prescot Cables. Jeremy Illingworth scored one of Stocksbridge's seventeen goals in the FA Cup against Oldham Town. Also in the Cup, Scott Wilson scored and Niell Hardy also played for Radcliffe Borough, who won at Clitheroe, whilst Paul Robertson and Martin McDonald played for Kidsgrove. John Toner scored one of TNS's goals as they were thrashed 7-2 by Polish side Amica Wronki in midweek in the UEFA Cup.
UNIBOND NEWS
Wakefield & Emley FC are asking their fans to propose a new name for the club after objections to the recent change of identity. The NLP confirms that UniBond sides can continue to transfer players despite the "closed window" for league clubs from 31 August. Recent transfers include:
Alex Callery (Sheff. W. to Worksop T.)
Danny Collins (Chester C. to Vauxhall M. on loan)
Tim Hogg (Scarborough to Worksop T.)
Gary Maguire (Stockport C. to Burscough)
---
31 August, 2002
RESULTS
There was only one home win today:
Ashton U. 1 Bradford PA 4
Blyth S. 0 Altrincham 2
Colwyn Bay 0 Droylsden 3
Frickley A. 1 Barrow 2
Gateshead 1 Gainsborough T. 1
Harrogate T. 0 Accrington S. 2
Hucknall T. 1 Lancaster C. 1
Hude U. 0 Wakefield & Emley 1
Marine 1 Worksop T. 2
Runcorn FC Halton 1 Stalybridge C. 0
Whitby T. 0 Burscough 2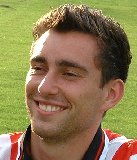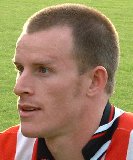 NEW FACES
Amongst the new faces at Moss Lane this season are (l. to r.) Neil Murphy (full-back from Blackpool) and Peter Band (midfielder/ defender from Hyde United).
For brief pen pictures of all of this year's squad, click here.



UNIBOND NEWS
The curious case of the transfer-listing of former Alty captain Chris Timons by his current club, Stalybridge, continues. An statement on the club forum says that "Chris has been on the transfer list since before the season started but there have been no enquiries for him as yet. He has NOT asked for a transfer". Celtic have released Gary Parkinson and allowed Scott Westwood to go on loan to Warrington Town. Accrington Stanley this week re-opened a merchandise store at Oswaldtwistle Mills; the ceremony was performed by Blackburn Rovers' David Dunn. Chairman Eric Whalley stated, "We are very grateful to everyone at Ossy Mills for their generosity, this shop gives us exposure to the thousands of people who visit the complex each week". The Tameside Advertiser report on Droylsden's home draw with Vauxhall Motors refers to "Droylsden's lush, green surface", whilst manager Dave Pace, after two draws, is threatening to "bring a few new faces in" to his side. The Bloods also have injury problems with Lebanese striker Wael Nazha and wing-back Matthew Rush. Barrow have now virtually completed the purchase of their Holker Street ground from the liquidator for a sum reported to be £265,000. Frickley are still without central defender Antony Jackson "who has a further three weeks to serve on his suspension from last season [and] goalkeeper Mark Wilkinson is due to go into hospital for an operation". Better news is that Frickley have signed a right-back, Duncan Milligan. Runcorn FC Halton will admit any holders of Liverpool, Everton or Manchester United season tickets today for just £1, to watch the game against Stalybridge. Spennymoor United will be allowed to play their F.A. Cup tie today against Consett after being suspended from playing any league games so far this season by the F.A.. Ashton United second-choice goalkeeper Andy Johnston has become ex-Alty boss Gerry Quinn's assistant-manager, which is a newly created post at the club.
---
30 August, 2002
GETTING TO KNOW YOU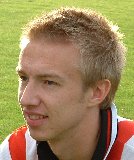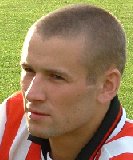 Getting to recognise the new players at the beginning of each season is part of football's annual ritual. Pictured here are two of Alty's new players, defender Stephen Rose (left) formerly at Chester City and right-sided midfielder Simon Woodford (right) from Ramsbottom United. For brief pen pictures of all of this year's squad, click here.





---
29 August, 2002
TEAM PICTURE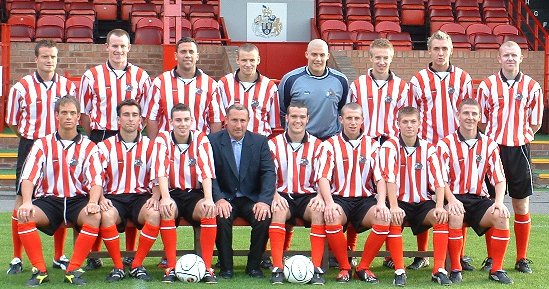 Cliff Hase took the official team photos for Altrincham tonight at Moss Lane and these will appear in due course in the programme and press. In the meantime, above is this website's less professional version. One or two players were unavailable, such as Gary Talbot and Chris Young, whilst Danny Murphy was present but missed the team picture. L to R, back: Neil Ryan, Peter Band, Jason Gallagher, Simon Woodford, Andy Moore, Stephen Rose, Andy McDonald, Mark Maddox. Front: Danny Frost, Neil Murphy, Shaun Smith, Geoff Goodwin (chairman), Rod Thornley, Ian Craney, Andy Tunnicliffe, Gary Scott.
YOUNG AND OLD ALTY
Tonight's Evening News business section had an article on former Altrincham goalkeeper Jeff Wealands, who is now the owner of a thriving firm called Utility Auditing which identifies energy savings for companies. It has a turnover of £65 million - (would he like to be an Alty sponsor?!). The article mentions how Jeff formerly played for Manchester United and Birmingham City- but there is no mention of his Altrincham days. The news section of the same paper has a picture and story about Domain Esdale, a midfield member of the Alty Youth team in the last couple of seasons. 18 year-old Domain, son of Dave, who also played for Altrincham, has just obtained his National Diploma in Sports Science at Wright Robinson College and is now starting a degree in Sport at Manchester Metropolitan University's site at Crewe and Alsager.
BERNARD'S VIEWS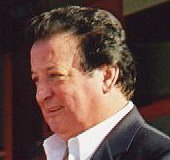 After Saturday's win, Bernard Taylor has told SAM, "No-one here is getting carried away. There's still a lot of travelling to be done and a lot of games still to be played. The win is definitely a weight off our mind. Even in the games we have lost I thought we played well in patches, so it is great to see what the squad is capable of. We'll have another go on Saturday at Blyth, and that will be hard. Not many teams will go up there this season and find it easy". SAM also reports that "Bernard went on to praise the atmosphere in the dressing room, and the part that Robins fans had played in making it so good. I am delighted with the fans. They were great with us on Monday and the players said they were of a different class after the game. Some of the players have told me they have never seen fans like that, and they are certainly the best I have ever seen".
SUPPORTERS' TRUST
Of interest to all Altrincham fans is a message posted on Gary Warrington's Altrincham FC Web Forum by Mark Eckersall and Peter Read about steps being taken to set up a Supporters' Trust at Altrincham.
CAPTAINS' CONTRASTING FORTUNES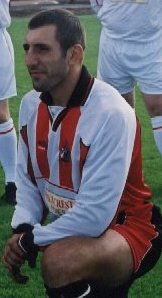 Alty's two captains during 2001-02 had contrasting fortunes on Monday with their new clubs. Table-topping Accrington's chairman Eric Whalley "singled out newcomers Mark Sertori (pictured,right) and ex-Anfield star Mike Marsh as key members of the side" on their website, saying "both players have played at a higher level and they bring a good measure of experience to what is on the whole a very young squad". But Steve Hawes, whom Sertori succeeded as captain at Moss Lane last season, was sent off for handball as he stopped a certain goal in Worksop's game against Hyde United. The resulting penalty was converted. Playing for Hyde against Steve in this game were his former Alty team-mates Dave Swanick and Anthony Hargreaves.
NEXT GAME
Alty travel to Blyth on 31 August. Howard Watts's record of Alty games in previous years on that date can be found here.
UNIBOND NEWS
Harrogate Town have denied NLP reports that they have identified a site for a new stadium. However, the club admits that "staying at Wetherby Road is not an option for Town, as it could not be upgraded to Conference League standard, which the club hope to attain within the next four years". Lancaster City have set up two youth academies with local institutions, Myerscough College and Cardinal Newman College.
---