You are in the
OPORTO RAILWAYS page
Links to rest of site:
LUSO PAGES HOME PAGE

LISBON TRANSPORT
OPORTO TRANSPORT
Oporto Airport
Oporto Transport in Baedeker, 1898
Oporto's Bridges
Oporto Buses
Oporto (Gaia) Cable Car
Oporto Coaches
Oporto Excursions: Régua, Lamego
Oporto Funicular
Oporto Metro
Oporto Railways
Oporto Railway Trip to Coimbra
Oporto River Vessels
Oporto Tram Museum
Oporto Trams & Trolleybuses
Oporto Tram Routes Now
Oporto Transport Museum
Eating & Drinking in Oporto

---
Oporto Airport - Aeroporto Francisco Sá-Carneiro

21 June 2015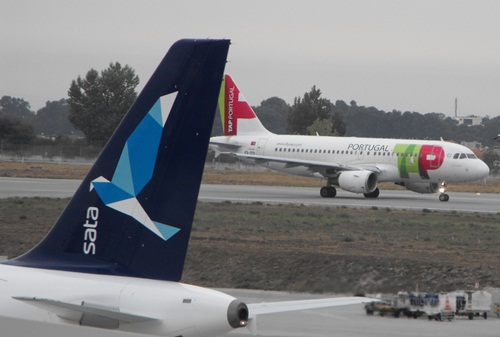 Oporto Airport lies about 11km north of the city and is connected to it by a Metro line E from Estádio do Dragão or, more centrally, Trindade station. Formerly known as Pedras Rubras, the nearest town to the airport, it was opened in 1943 but was renamed after the former Portuguese prime-minister Francisco Sá-Carneiro, who hailed from Oporto. Ironically for an airport bearing his name, Sá-Carneiro sadly died in an air crash in December, 1980, just outside Lisbon, whilst heading for Pedras Rubras airport in a light aircraft. It was only after this accident that the airport got its new name.
Its runway is 11,417 feet long and the airport is sited 228 feet above sea level.
Right: A TAP Airbus is seen behind a SATA flight on its way to the Açores at Oporto airport in 2011.
Services to Britain currently include those operated by Ryanair, easyJet, British Airways and TAP Air Portugal.
The airport has been greatly upgraded in recent years and has just reached throughput of five million passengers a year. It has plenty of airy seating space and good eating facilities which are not over priced by airport standards; the Cais da Ribeira eatery in the departure lounge area being a good example of this. Likewise, the duty free shops offer items at very reasonable prices e.g. wine. The airport has deservedly won several prizes for its efficiency and pleasantness of use.
The Metro station is at the lower level of the airport building and services take around half an hour to reach Trindade station in central Oporto. Automated ticket machines are available and there is usually someone in uniform on hand to help out with any ticketing problems. More easily, you can buy Andante travel cards from the Oporto Tourist Office inside the terminal. As of June 2015 a one-day Andante Tour card cost 7 euros and a three-day one cost 15 euros. These are vallid for 24 and 72 hours respectively so, if you buy a one-day ticket, say, on a Tuesday afternoon, it is not only valid for the rest of that day but also valid up to the time of issue on the following day. Do not forget that you MUST validate your ticket BEFORE every journey and at every change of vehicle. You do not have to validate on exiting a Metro or bus. Checks are quite regular and can be unforgiving as they are operated by a security firm.
---
Oporto Heliport
Oporto has a riverside heliport situated close to the STCP Tram Museum at Massarelos.
---
Copyright: ©


Contact: the following is not a link; please transcribe the address into your email