You are in the
OPORTO RIVER VESSELS page
Links to rest of site:
LUSO PAGES HOME PAGE

LISBON TRANSPORT
OPORTO TRANSPORT
Oporto Airport
Oporto Transport in Baedeker, 1898
Oporto's Bridges
Oporto Buses
Oporto (Gaia) Cable Car
Oporto Coaches
Oporto Excursions: Régua, Lamego
Oporto Funicular
Oporto Metro
Oporto Railways
Oporto Railway Trip to Coimbra
Oporto River Vessels
Oporto Tram Museum
Oporto Trams & Trolleybuses
Oporto Tram Routes Now
Oporto Transport Museum
Eating & Drinking in Oporto

---
Oporto - River Vessels & Shipping

21 June 2015


Above: Left; a "Rabelo" moored near the D. Luís bridge. Right; a Sandeman cruise vessel at the same location.
Oporto - River Cruises
In the late 1970s you would be lucky to see a passenger vessel of any size on the Douro at Oporto; the port-wine company of Ferreira did operate a small boat for tourists called the "Three Bridges Cruise", (nowadays it is a "Six Bridges Cruise", thanks to the three more recently constructed structures). The Ferreira cruises sailed from their premises in Gaia as far as the D. Maria Pia railway bridge to the east, via the double-deck Ponte D. Luís, and to the Arrábida bridge in the west - but that was about it.

Now (2015), there are several companies running trips from both the Oporto (Cais Estiva) and the Gaia sides of the river, some of short duration and others going as far as Spain. The "Six Bridges" tour takes about 50 minutes and is an excellent introduction to the city.

Above: One of the larger boats that you will see at Oporto is the CroisiEurope 75-metre vessel "Fernão de Magalhães", built in 2003. It is seen here as it heads down river through Oporto in 2011 with what looks like a full complement of 142 passengers.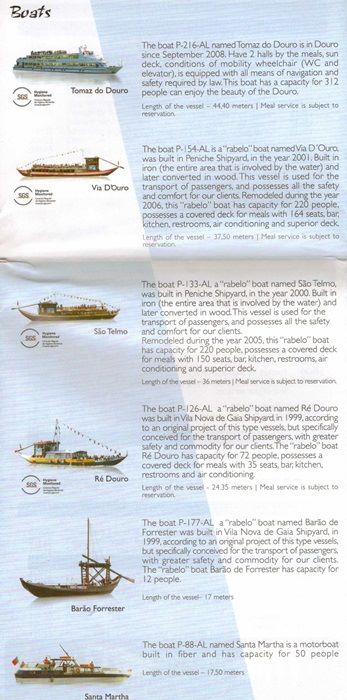 Right: The Tomaz do Douro fleet list.
Those offering river trips include: