Teleférico de Gaia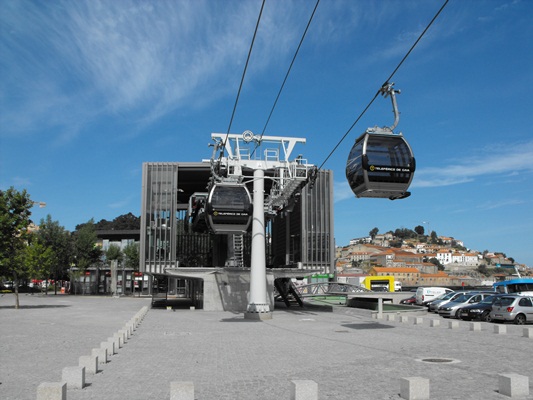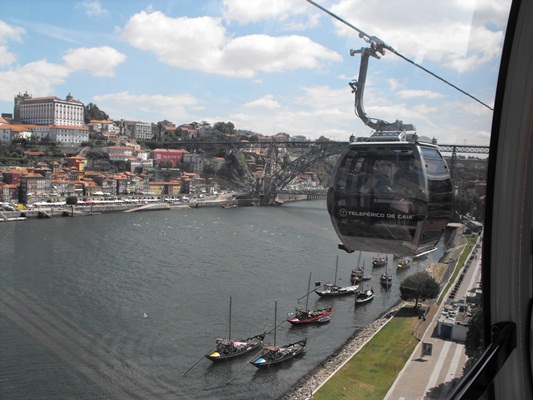 Above left; the cable car station on the quayside; right, the view of Oporto from the cable car.
Vila Nova de Gaia is the town sited directly opposite Oporto on the River Douro and connected to it by six bridges. Gaia has been trannsformed from a working town into a tourist destination in its own right thanks to its being the location of the warehouses of the famous port-wine producing companies, most of which offer tasting tours.
As part of the town's transformation, the quayside has been smartened up considerably in recent years and the latest attraction, opened on 1 April, 2011, is its cable car. The main bridge linking the town with Oporto is the iconic two-level Ponte D. Luís, opened in 1886. However, it has always been awkward to get between the two levels of the bridge; the upper level leading into the town of Vila Nova de Gaia and the lower level to the water front, with a long winding road between them.
The new cable car partly solves that problem by linking the upper level of the bridge directly with the quayside, albeit the destination from the top is 562 metres away from the bridge towards the western end of the quay. The top station of the cable car is easily reached, either on foot across the D. Luís bridge or by Metro, which stops at the adjacent Jardim do Morro stop. The cable-car ticket office itself affords superb views across the river.
The operators of the cable car are Telef - Transportes por Cabo e Concessões, S.A. who, with the Etermar consortium, started work on the project in March, 2009. It cost more than the budgeted 10 million euros, with tests of the system commencing in January, 2011. It has 12 cabins, each holding up to 8 people, and it is planned to construct a panoramic restaurant and car park at the top station at Jardim do Morro.
The journey costs five euros for a single trip or eight euros for a return ticket (2015) and takes five minutes, affording superb views of Oporto over the Douro and the port wine lodges. It currently operates from 08:30 to 18:00 (winter) and from 10:00 to 20:00 hours in the summer.
---

Copyright: ©


Contact: the following is not a link; please transcribe the address into your email